January 18, 2012 at 14:17 PM EST
Joshi: Education Evolution or Revolution?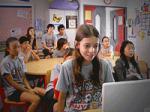 We have seen students try to navigate through this "data smog" with social sites, texting, e-readers, music devices and tablets. But are they really augmenting their schoolwork with the latest must-have inventions? Or are their studies suffering while they fall prey to digital domination?