April 27, 2012 at 09:19 AM EDT
GDP Disappoints, but Stock Futures Rise!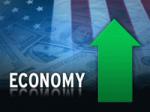 First look at U.S. first quarter gross domestic product was disappointing, at 2.2 percent, well below consensus of 2.6 percent. Much of the debate on the U.S. economy could be summed up simply: Do you think growth will be north of 2.5 percent this year, or south of that? More ammunition for the bears.