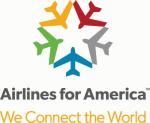 WASHINGTON, May 5, 2012 /PRNewswire-USNewswire/ -- Airlines for America (A4A), the industry trade organization for the leading U.S. airlines, today issued the following statement on the U.S. Export-Import Bank reauthorization agreement:
"We appreciate the hard work of Republican House Majority Leader Eric Cantor and Democratic House Minority Whip Steny Hoyer, who negotiated a bipartisan agreement that ensures increased transparency in the Ex-Im bank's lending practices, calls for greater economic impact analysis of loans and would implement other important reforms, and we urge passage of the agreement," said A4A President and CEO Nicholas Calio.
ABOUT A4A
Annually, commercial aviation helps drive more than $1 trillion in U.S. economic activity and nearly 10 million U.S. jobs. A4A airline members and their affiliates transport more than 90 percent of all U.S. airline passenger and y cargo traffic. For more information about the airline industry, visit www.airlines.org and follow us on Twitter @airlinesdotorg.
SOURCE Airlines for America