The Following Is an Investment Opinion Being Issued by the Obsidian Financial Communications Inc.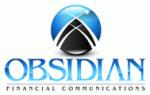 NEW YORK, NY -- (Marketwire) -- 05/31/12 -- OFinancialinc.com announces the following stocks to its Stock Market Morning News.
OFinancialinc.com, the investor's choice for small-cap alerts, provides stock alerts of the most active small to big cap stocks for early signs of potentially big stock moves. Early timing is critical for catching these potentially explosive stock moves. To receive our FREE OFC Stock Alert Newsletter and get more early alerts, please visit our website: OFinancialinc.com.
NVMN Signs New Agreements on South American Gold & Diamond Mining Venture
Nova Mining Corp. (PINKSHEETS: NVMN) announced today (5/31/12) that the Company has extended the Option Agreement with Natural Resources Recovery Guyana (NRRG) regarding the five diamond, gold and timber harvesting concessions totaling 2,567 hectares (6,000 acres) in Northeastern Guyana, South America. Recent geological reports supplied by NRRG during the Due Diligence have shown a significant presence of diamonds on the concessions. The concessions are located in the Upper Cuyuni Basin - Greenstone Belt, Guyana, between the country's border with Brazil and Venezuela. All permitting and mining licenses have been secured from the Guyana Mining Commission and verified by a Guyana-based law firm specializing in mineral rights.
Subject to affirming the assertions by NRRG, Nova Mining management believes that acquiring an interest in NRGG's Guyana concessions could prove to be a very lucrative move for the Company. Under the Agreement, both parties are to negotiate, in good faith, an Investment and Profit Sharing Agreement (IPSA) related to the concessions.
Nova Mining Corp. (PINKSHEETS: NVMN) strongly believes that current market conditions are extremely favorable for diamond prices and sales due to the new significant demand being placed on the existing worldwide diamond supply. New manufacturing methods requiring superior cutting materials, the need for more diamond tipped oil drilling bits and rapidly rising demand in Asia resulted in a staggering price increase of 49% in the first half of 2011, accelerating after two years of 30% annual growth. Due to these steadily increasing market trends, the Company is initially focusing on diamonds, but is also looking to build a mining asset portfolio that contains lithium, copper and gold resources.
To view the full press release for Nova Mining Corp. (PINKSHEETS: NVMN), visit OFinancialinc.com
Other Highlights Include:
Aceto Announces Its New Logo and Renamed Business Segments
Aceto Corporation (NASDAQ: ACET), a global leader in the marketing, sales and distribution of pharmaceutical active ingredients and intermediates, finished dosage form generic pharmaceuticals, nutraceutical products, agricultural protection products and specialty chemicals on 5/30/12, announced its new Logo and renamed Business Segments. The following announcement from Albert Eilender, Chairman and CEO, was sent to Aceto Shareholders on May 29, 2012. As you can see from the new logo, we are introducing a number of enhancements to our corporate appearance. Not only is there a new logo but there also will shortly be a newly designed website, www.ACETO.com. When you visit and explore our redesigned electronic home you will find improved navigation and enhancements relating to our core competencies of sourcing, regulatory support and quality assurance that apply to each of the three business segments within our international framework of operations.
Air Products Signs New Gas Supply Contract with Tianma Microelectronics
Air Products (NYSE: APD) on 5/30/12 announced it has signed a long-term contract with Xiamen Tianma Microelectronics Co. Ltd. for the supply of bulk gases including ultra high-purity nitrogen and oxygen, hydrogen, argon, and helium at its new facility, which is China's first 5.5 Generation low-temperature polysilicon (LTPS) thin-film transistor liquid crystal display (TFT-LCD) and color filter production line, at Xiamen Xiang'an Industrial Park, Fujian Province. Xiamen Tianma is an affiliate of Shenzhen-listed Tianma Microelectronics Co. (Tianma), China's leading small- and medium-sized TFT-LCD maker. It leverages Tianma's abundant experience in research and development, production, and management in the TFT-LCD industry. The deal marks another win by Air Products and further strengthens its position in China's fast-growing high-end TFT-LCD market.
Albemarle to increase ibuprofen prices
Albemarle Corporation (NYSE: ALB), a global developer, manufacturer and marketer of highly engineered specialty chemicals, announced on 5/30/12 that it will increase global prices for all grades of ibuprofen by an estimated 15% effective immediately, or as contracts allow. Albemarle's ibuprofen and other generic active pharmaceutical ingredients (APIs) are part of the company's Fine Chemistry Services division in the Fine Chemistry global business unit. Albemarle's Fine Chemistry Services division manufactures and markets bulk and niche active pharmaceutical ingredients for over-the-counter and prescription drugs, and provides custom manufacturing, R&D and other services to makers of pharmaceuticals, agricultural chemicals, specialty materials and other high-value markets.
About OFinancialInc.com:
OFinancialInc.com, a leader in corporate communications and finance, provides investors with a wide-ranging set of financial tools, including original stock market commentary, stock quotes, interactive charts, portfolio watch, live chat and message boards, plus the latest news, press releases, investment opinions, and research reports for all companies highlighted on the site. Visit http://StockPromoters.com for more details.
All material herein was prepared by Obsidian Financial Communications, Inc. (OFC) based upon information believed to be reliable. The information contained herein is not guaranteed by OFC to be accurate, and should not be considered to be all-inclusive. The companies that are discussed in this opinion have not approved the statements made in this opinion. This opinion contains forward-looking statements that involve risks and uncertainties. This material is for informational purposes only and should not be construed as an offer or solicitation of an offer to buy or sell securities. OFC is not a licensed broker, broker dealer, market maker, investment banker, investment advisor, analyst or underwriter. Please consult a broker before purchasing or selling any securities viewed on http://OFinancialinc.com or mentioned herein. Nova Mining Corp. (NVMN) - Obsidian Financial Communications Inc. (OFC) has been compensated one hundred twenty five thousand ($125,000) dollars by a third party for NVMN. We could receive up to another one hundred twenty five thousand ($125,000) dollars for NVMN from this same third party. In addition to any compensation mentioned above, additional compensation can be equal to ten percent of any newly issued or registered securities of the profiled companies. OFC's affiliates, officers, directors and employees may own shares and intend to buy and sell additional shares of the companies mentioned herein and may profit in the event those shares rise in value. OFC will not advise as to when it decides to sell and does not and will not offer any opinion as to when others should sell; each investor must make that decision based on his or her judgment of the market. To see OFC's full disclaimer / compensation, please visit our web site: http://ofinancialinc.com/disclaimer