Vending Machine Companies and Quench Beverage & Snack Co. Now Offer Total Distributorship Packages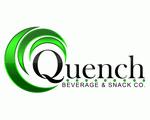 FORT COLLINS, CO -- (Marketwire) -- 07/16/12 -- Quench Beverage & Snack Co. is pleased to announce they are now offering distributor packages for businesses that want to support a local business over large vending machine companies. Quench now offers re-stocking of office supplies, cleaning products, disposable eating utensils and other products vital to the successful running of a workplace as a service.
Quench's local market makes it so it is sometimes difficult to compete with the vending machine prices of large vending corporations who have access to more resources. Despite this, Quench knows that the draw of local business may not be for the prices, but rather for the quality of customer relations and vending services. Through distributor deals, they have effectively figured out how to knock out two birds with one stone by keeping prices in the vending machines low while offering a quality of service that is impossible to find with large vending machine companies.
How the process works is actually rather simple. Businesses who request a Quench vending machine in their place of work will have the option to sign up for a distributor deal. For a nominal fee, a Quench representative will come on request and stock the company with paper plates, cups, forks, towels, and other necessary products that are an essential for any break room. In return, Quench will lower prices in the local vending machine. This allows Quench to remain competitive at a corporate level while still providing an essential service for any modern business.
David Carpenter, owner and operator of Quench Beverage & Snack Co., says, "With this new distributor deal we are now able to offer competitive pricing and still retain the kind of customer service that we think makes Quench unique in the industry. Vending machines may seem like a little thing, but snacks and pop drinks are our passion, and we try to reflect that in our vending services and customer relations."
Quench Vending is renowned in the Colorado vending industry for providing quick and reliable vending services. Installation of vending machines costs nothing, and a percentage of the profits made goes directly into the pocket of the business where the machine is installed. Currently, Quench offers service for the majority of northern Colorado, including Boulder, Denver, Fort Collins, Greeley, Loveland, Longmont, and many more cities in towns. Find out first hand how Quench beats out large vending machine companies by visiting their website at www.quenchvending.com or calling 970-396-2434.
Add to Digg Bookmark with del.icio.us Add to Newsvine