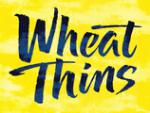 EAST HANOVER, NJ -- (Marketwire) -- 03/08/12 -- Wheat Thins, the brand known for encouraging consumers to embrace every experience, no matter how big or small, is celebrating NCAA Basketball fans across the country by issuing tips for covertly viewing NCAA® March Madness® games at work. The move is part of the brand's "Do What You Do" campaign and its role as the official cracker of the NCAA.
"We know our fans are passionate about rich experiences, and especially about college basketball," Jim Low, senior marketing director for Wheat Thins at Kraft Foods, said. "That's why we're excited to be a part of March Madness and to help our fans enjoy every game of the tournament."
The tips range from time management strategies to stress relief tactics to, of course, snacking recommendations, and include:
Subtlety is key. Walking into the office wearing a team jersey over a dress shirt is a surefire way to arouse suspicion on game day. Instead, work your favorite team's colors into your outfit. Seriously, which shade of blue button-down you wear has never meant so much.


Don't risk getting caught watching the game at your desk. Book a conference room! Surely you and your colleagues-in-the-know have plenty of important matters to discuss. Like potential sales channels. And -- as tipoff approaches -- which of the 4 TV channels has the game you most want to watch.


Block your calendar. If all meeting rooms are booked, block some time in your calendar for that super critical conference call and throw on your multimedia headset. You'll be taking this call from your desk (but actually watching the live stream of the game on March Madness Live - MML).


Quick thinking is as crucial in the office as it is on the court, so use the MML "Boss Button" to stay just one click away from the boss thinking you are keeping that project on deadline.


Keep your hands clean. Eating ribs at your desk is a dead giveaway. There's no WAY you're really working on that spreadsheet with sauce all over your fingers! Instead, satisfy your craving with Wheat Thins' Smoky BBQ flavor. You'll get all the kick and none of the mess.


Hide the evidence. There are more than 100 quintillion ways to fill out a bracket, so go crazy online. But if you insist on kicking it old skool, keep your paper version tucked in a file folder. When your coworkers glimpse at you and see you spending so much time in your work, it will only inspire them...and increase office efficiency!


Two words: stress ball. To stay calm during those unavoidable nail-biting moments, keep a stress ball in your hands at all times. And when your #3 seed gets eliminated in the third round by a buzzer beater, squeeze!


Management's on to you? One-fifth of Americans plan to visit a restaurant or bar, or order takeout or delivery from one, to watch the NCAA Tournament. Take your boss out to lunch -- maybe to the local sports bar where the game just happens to be playing on a dozen mounted HDTV screens? -- and let human nature take over.


Keep yourself hydrated. Fill up at the water cooler between games. But don't give yourself away -- make sure your water cooler conversations are all about reality TV, not NCAA Basketball.


Speak in code. No doubt you'll get frustrated watching one of your teams brick open jumpers. No doubt you'll get so frustrated that you'll yell at your monitor. So come up with office-related code names to exchange with your colleagues. "I can't open this freaking attachment!" now takes on a whole new meaning.

To share your own tips and stories, visit www.facebook.com/wheatthins or join the conversation on Twitter @wheatthins.
ABOUT KRAFT FOODS
Kraft Foods Inc. (NYSE: KFT) is a global snacks powerhouse with an unrivaled portfolio of brands people love. Proudly marketing delicious biscuits, confectionery, beverages, cheese, grocery products and convenient meals in approximately 170 countries, Kraft Foods had 2011 revenue of $54.4 billion. Twelve of the company's iconic brands -- Cadbury, Jacobs, Kraft, LU, Maxwell House, Milka, Nabisco, Oreo, Oscar Mayer, Philadelphia, Tang and Trident -- generate revenue of more than $1 billion annually. On Aug. 4, 2011, Kraft Foods announced plans to divide and create two independent public companies: a high-growth global snacks business and a high-margin North American grocery business. The transaction is expected to be completed before the end of 2012. A leader in innovation, marketing, health & wellness and sustainability, Kraft Foods is a member of the Dow Jones Industrial Average, Standard & Poor's 500, Dow Jones Sustainability Index and Ethibel Sustainability Index. Visit www.kraftfoodscompany.com and www.facebook.com/kraftfoodscorporate.
About the NCAA
The NCAA is a membership-led nonprofit association of colleges and universities committed to supporting academic and athletic opportunities for more than 400,000 student-athletes at more than 1,000 member colleges and universities. Each year, more than 54,000 student-athletes compete in NCAA championships in Divisions I, II and III sports. Visit www.ncaa.org and www.ncaa.com for more details about the Association, its goals and members and corporate partnerships that help support programs for student-athletes. The NCAA is proud to have the following elite companies as official Corporate Champions -- AT&T, Capital One and Coca-Cola -- and the following elite companies as official Corporate Partners -- Allstate, Buick, Enterprise, Infiniti, LG, Lowe's, Northwestern Mutual, Reese's (Hershey's), Unilever, UPS and Wheat Thins (Kraft).
NCAA, March Madness and NCAA Basketball are licensed by or trademarks of the National Collegiate Athletic Association.
Image Available: http://www2.marketwire.com/mw/frame_mw?attachid=1912638