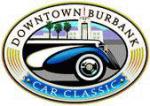 BURBANK, CA -- (Marketwire) -- 06/19/12 -- The Downtown Burbank Car Classic is an exciting showcase for restored and pre-1974 sports cars, exotics and hot rods, and will cruise into Downtown Burbank with engines roaring and horns ablaze on Saturday, July 28 from 3:00 to 9:00 pm.
In tune with Downtown Burbank's connection with the entertainment industry, vehicles with a Hollywood twist will be in the spotlight, such as those appearing in film or television, or having a distinguished history of celebrity ownership. Cars will stretch along San Fernando Boulevard from Magnolia Boulevard to Angeleno Avenue as well as adjacent streets in Downtown Burbank's shopping, dining, and entertainment district. Included will be lots of family entertainment, music and vendor-booths.
For retro fans, the fun starts the night before with a special preview party, Friday, July 27, from 7pm to 9pm. Participants will join in a nostalgic trip down memory lane at the original Bob's Big Boy, 4211 West Riverside Drive in Burbank, where the 1950s are still being celebrated. It's a chance to bask in the golden rays of a California sunset while enjoying tasty burgers and fries served by authentic car hops. It's also a great opportunity to meet and greet with fellow automotive enthusiasts and to admire select vehicles before the following day's show.
The Downtown Burbank Car Classic is presented by Downtown Burbank Partnership, a non-profit organization.
Registration information:
Participation is limited, and cars will be registered on a pre-approved basis. The entry fee is non-refundable and includes vehicle exhibit space, event t-shirt and product gift bag. All spaces will be assigned by the event staff and the event will be held rain or shine. Cars must be pre-registered on or before July 20, 2012. Registration fee per vehicle is $30 (early registration) or $50 (after July 9). Special VIP Packages (includes Preview) are $45 (early registration) or $65 (after July 9). For further information and to register, please visit www.downtownburbankcarclassic.org
Add to Digg Bookmark with del.icio.us Add to Newsvine
Media Contact:
Gail Stewart
Downtown Burbank Partnership
818.238.5209