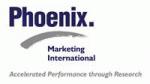 LONDON -- (Marketwire) -- 06/20/12 -- Phoenix Marketing International (PMI), a leading global marketing services firm, announced today that they will be unveiling their new Dashboard Reporter at the Fund Forum in Monaco. The Dashboard Reporter is a powerful interactive tool which enables financial professionals to instantly analyse the needs and attitudes of their affluent and high net worth investors in Europe and print out professional reports at the touch of a button.
The Dashboard Reporter is based on the Phoenix Global Wealth Monitor, a syndicated marketing-research platform which continuously tracks the needs, attitudes and behaviors of affluent and HNW investors in the United States, Canada and seven European countries. Leading financial services companies worldwide use the data and insights from the Global Wealth Monitor to strengthen client relationships, acquire new clients, accelerate product development, and sharpen their messages.
Phoenix will be demonstrating its Dashboard Reporter at Stand 29 at the Fund Forum.
For more information, please contact John Fedden at +44 (0) 1299 404 381, email John at John.Fedden@phoenixmi.com, or find us online at www.phoenixmi.com/GWM.
Phoenix Marketing International Contact:
John Duggan
Vice President Sales and Business Development
Email Contact
+001 508-315-6184

Phoenix Marketing International Contact:
David M. Thompson
Managing Director, Phoenix Affluent Practice
Email Contact

Europe Office
20 Mortlake High Street
London - SW14 8JN - UK
(P) +44 203-427-6147