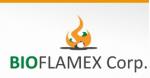 COPENHAGEN, DENMARK -- (Marketwire) -- 03/09/12 -- Bioflamex Corp. (OTCBB: BFLX) today disclosed plans to commence testing and production of a 800ml version of the Bioflamex aerosol extinguisher.
The new 800ml Bioflamex aerosol extinguisher will contain a less heavy foam mixture and higher bar-pressure, compared to the kitchen fire variant of Bioflamex. The new formulation is designed to combat car- and boat engine fires, as well as more general first response.
Effectively, this new initiative will expand the market penetration possibilities and is estimated to almost double the sales potential for Bioflamex, as it opens up for collaboration with strong distribution partners within the car, boat and camping market segments.
The 800ml bottle is scheduled to be submitted for UL approval Q2 2012, and the Company expects a market launch Q3 2012.
About Bioflamex Corp.: Bioflamex Corporation is a company focused on the development, production and marketing of its proprietary "clean tech" and advanced high performance fire prevention and -fighting products and systems.
With its global scope, Bioflamex Corp. primarily aims at penetrating its main market segments with its proprietary Bioflamex aerosols and Sentinel wildfire detection and prevention systems. The mission is to protect the environments while saving lives and property from fires. The Bioflamex Corp. products can enhance private households' ability to safely and efficiently fight and prevent home fires, and increase the ability to protect private and public property in forest fire prone areas with little or no contamination of the environment.
In a $100 billion fire safety and electronic security market, Bioflamex Corp. aims to become a leading "clean tech" niche player and to generate a $100 million+ turnover within the next 5 years.
FORWARD-LOOKING STATEMENTS: "Safe Harbor" Statement under the Private Securities Litigation Reform Act of 1995: Statements relating to the company's business activities and other statements in this press release are forward-looking statements within the meaning of the Securities Litigation Reform Act of 1995. Such statements are based on current expectations about the Company's business. Words such as expects, anticipates, intends, plans, believes, estimates and similar words and expressions are intended to identify such forward-looking statements. These statements involve risks that are difficult to evaluate. Actual results can vary from descriptions herein due to many factors including changes in metal prices and business conditions; changes in laws and regulations; problems encountered in exploration and obtaining permits; changes in the competitive environment; technological advances; shortages of skilled workers, drill rigs and equipment; the need for additional capital and other risks listed in the Company's Securities and Exchange Commission filings under "risk factors" and elsewhere. Forward-looking statements speak only as of the date they were made. The Company does not undertake any obligation to update forward-looking statements.
For more information about Bioflamex Corp.
Add to Digg Bookmark with del.icio.us Add to Newsvine