300 Global Leaders Seek to Foster and Transform U.S.-India Partnerships at the First Annual USIBC West Coast Summit
Posted on April 28, 2012 at 00:24 AM EDT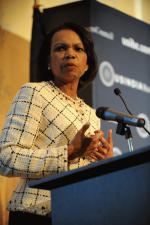 The U.S.-India Business Council (USIBC), in partnership with the Federation of Indian Chambers of Commerce and Industry (FICCI), hosted its first annual U.S.-India Business West Coast Summit on April 26th and 27th, 2012 at the Rosewood Sand Hill in the Silicon Valley.
Condoleezza Rice, Former Secretary of State, United States Government; Professor of Political Economy, Stanford Graduate School of Business; Hoover Senior Fellow on Public Policy, Hoover Institution; & Founding Partner, The RiceHadley Group (Photo: Business Wire)
Themed "Building Bridges, Fostering Innovation," the conference poignantly addressed the dynamic potential that exists in present and future collaboration between the United States and India. Engaging discussions led by prominent business and policy leaders focused on the most pressing political and economic issues impacting U.S.-India relations, as well as technology and innovation, renewable energy and trade and investment.
Highlights and photos from the keynote speakers are below:
Condoleezza Rice, Former Secretary of State: "India is a wonderful example of what democratic institutions can achieve. The Indian democracy cannot be underestimated."
"One of my proudest moments was watching the US-India civil nuclear agreement being signed."
Andy Bird, Chairman, Walt Disney International: "India isall about cricket, film and television, so Disney had to be involved in at least two of those to be successful there. So our strategy in India has been driven by media. As part of strategy, we've acquired media companies there. We are just learning to walk in India, but pretty soon we'll be jogging and running and we're looking forward to a very bright and exciting future there."
Wim Elfrink, EVP, Emerging Solutions & Chief, Globalization Officer, Cisco Systems: "Collaboration is the future. In 2020, India will be the youngest country in the world, with one in three workers in the world being Indian. Additionally, 100 million Indian are expected to urbanize in the next 10 years. Needless to say, this is a tremendous opportunity for US and India to collaborate."
Vinod Khosla, Partner, Khosla Ventures: "The willingness to fail allows you the opportunity to succeed. But when you have the chance to succeed make sure it's something consequential. Innovators need to keep in mind that you can only lose one times your money, but you can make 100 times as much."
"Innovation happens in an evolutionary way, in small increments as opposed to something big happening all at once. Some areas are riper for innovation than others."
Paul Maritz, President & Chief Executive Officer, VMware, Inc.: "Efficiency drive will not create employment so we need to be advocates of changing from the old system of education to the new system and from the old way of employment to the new way of employment. Keeping this in mind, both India and the United States need to really focus on education."
For more photos, please click here.
About USIBC:
The U.S.-India Business Council (USIBC) is the premier business advocacy organization formed by the U.S. and Indian governments in 1975 whose purpose is to deepen two-way trade and strengthen commercial ties. Today, USIBC is comprised of 350 top-tier U.S. and Indian companies, which will gather in Washington, D.C. on June 11th and 12th to celebrate the organization's 37th Anniversary. Ajay Banga, President & CEO of MasterCard Worldwide, serves as chairman of USIBC. For more information, visit http://www.usibc.com.
About FICCI:
Established in 1927, FICCI is the largest and oldest apex business organization in India. A non-government, not-for-profit organization, FICCI is the voice of India's business and industry. For more information, visit http://www.ficci.com/index.asp.
Photos/Multimedia Gallery Available: http://www.businesswire.com/cgi-bin/mmg.cgi?eid=50257253&lang=en