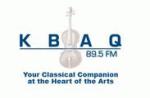 TEMPE, AZ -- (Marketwire) -- 05/22/12 -- KBAQ 89.5 invites you to share your personal stories and observations about Arizona's artistic past, heritage and future legacy during a community forum on Tue., May 22 at 5:30 p.m. at Rio Salado College's Conference Center.
This forum is a follow up discussion to KBAQ's radio series: Hearing the Century, which aired during the month of February in honor of Arizona's 100th birthday celebration. KBAQ Host and Music Director Sterling Beeaff will serve as the moderator. He will be joined by professor of art history at Arizona State University Betsy Fahlman; glass-bead artist and Turquoise Rainbow Resources consultant Wendy Weston; and South Mountain Community College Storytelling Institute director Liz Warren.
Space is limited and reservations are required in advance. Please contact Claire Kerrigan at (480) 774-8444 or ckerrigan@rioradio.org to reserve your seat.
You can help focus the dialogue by sharing your questions and comments in advance with series producer Jane Hilton.
To learn more about this event and the series, visit KBAQ.org.
Financial support for Hearing the Century was made possible in part by the Arizona Humanities Council, Scottsdale Museum of Contemporary Art, Scottsdale Unified School District and Wells Fargo Bank.
KBAQ 89.5 is a listener-supported public radio station that is licensed to the Maricopa Community Colleges District. It is as a community service of Rio Salado College's Division of Public Service, which also includes KJZZ 91.5, Sun Sounds of Arizona and MCTV. KBAQ 89.5 features a mix of classical music. For more information, visit kjzz.org.
Rio Salado College is one of ten Maricopa Community Colleges and the largest online public community college in the nation, serving nearly 70,000 students annually with more than 43,000 online. Founded in 1978, Rio Salado offers degree and certificate programs and general education courses. The college also provides support for dual enrollment, military and incarcerated students, and is the largest provider of adult basic education in Arizona.
Add to Digg Bookmark with del.icio.us Add to Newsvine