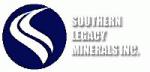 TORONTO, ONTARIO -- (Marketwire) -- 06/29/12 -- Southern Legacy Minerals Inc. ("Southern Legacy") (TSX VENTURE: LCY) together with Sinchao Metals Corp. ("Sinchao" or the "Company") (TSX VENTURE: SMZ) is pleased to announce the completion of the transaction to combine Southern Legacy and Sinchao (the "Transaction"). See previous news releases for Sinchao dated June 25, 2012 and June 27, 2012.
As a result of this transaction:


--  the issued and outstanding common shares of Sinchao were consolidated on
    a six to one basis;

--  the name of the Company has been changed to Southern Legacy Minerals
    Inc. and will commence trading on the TSX Venture Exchange on July 3,
    2012 under the symbol "LCY";

--  each of the 7,108,617 subscription receipts that were issued on May 14,
    2012 have been converted into one unit of the Company, each unit
    consisting of one common share (on a post-consolidation basis) and one-
    half of one share purchase warrant that is exercisable into one common
    share of the Company at a price of $1.30 until June 28, 2014;

--  each of the shares of Southern Legacy have been exchanged for 0.8352
    post-consolidation shares of the Company pursuant to a merger under the
    Idaho General Business Corporations Act between Southern Legacy and
    Sinchao Idaho, Inc., a wholly-owned subsidiary of Sinchao.

--  The combined property holdings of Sinchao and Southern Legacy has
    resulted in a portfolio of base and precious metals projects spanning
    along the Andes in Peru, Colombia and Chile.


"The successful completion of this transaction is the result of the dedication of each company's management, shareholders and support services," commented Cesar Lopez, Chairman and CEO of Southern Legacy. "I would like to extend my gratitude to our team for their in creating an exciting consolidation of copper, gold and polymetallic properties in the Andean region. We will now turn our focus to developing the inherent potential of our portfolio and look forward to presenting our shareholders with the results of the combination at the individual property levels."
The Company's documents are available on SEDAR at www.sedar.com.


On behalf of Southern Legacy Minerals Inc.,
"Cesar Lopez"
Cesar Lopez, CEO
T: 786-427-3547
E: maco64@me.com
About Southern Legacy Minerals Inc.
Southern Legacy Minerals Inc. ("Southern Legacy") (TSX VENTURE: LCY) is an exploration company with a diversified portfolio of gold and copper projects in South America. Southern Legacy's current projects span along the Andes in Colombia, Peru and Chile. Led by a management team with over 20 years of mineral exploration and development experience in South America, the team boasts strong relationships with local government officials and stakeholders in the jurisdictions where their projects are situated. Southern Legacy is currently focused on expanding the resource at its flagship copper and gold project AntaKori (formerly known as Sinchao), located in northern Peru between Gold Field's Cerro Corona and Buenaventura's Tantahautay projects.
Forward Looking Statement:
Certain of the information contained in this news release constitutes 'forward-looking statements' within the meaning of securities laws. Such forward-looking statements, including but not limited to those with respect to the prices of metals and minerals, purchase payments, estimated future production and estimated costs of future production involve known and unknown risks, uncertainties and other factors which may cause the actual results, performance or achievements to be materially different from any forecast results, performance or achievements expressed or implied by such forward-looking statements. Such factors include, among others, the actual prices of metals and minerals, the actual results of current exploration, development and mining activities, changes in project parameters as plans continue to be evaluated, as well as those factors disclosed in the documents of the Company filed from time to time with the British Columbia Securities Commission.
Neither the TSX Venture Exchange nor its Regulation Services Provider (as that term is defined in policies of the TSX Venture Exchange) accepts responsibility for the adequacy or accuracy of this release.
Contacts:
Southern Legacy Minerals Inc.
Elina Chow
VP, Corporate Development
+1.416.845.8495
echow@slminerals.com