Some of the seeds sent from Syria to the Svalbard Seed Vault in Norway several years ago are being returned to the Syria seed bank. SurvivalSeeds4Patriots officials remind people they can have their own vaults containing non-GMO seeds.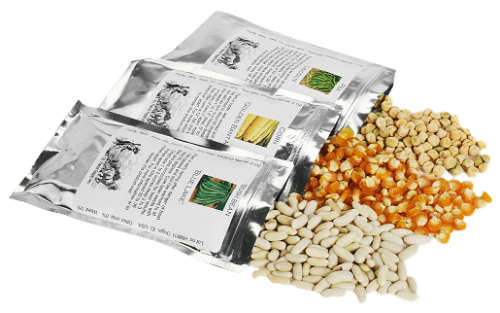 Nashville, Tenn., United States - October 1, 2015 /MarketersMedia/ —
Several years ago, as it became obvious that Syria was going to be a war zone for the foreseeable future, 116,000 types of seeds were transported from Syria to the Svalbard Seed Vault on Spitsbergen Island in Norway for safekeeping. Now, according to a recent article in The Local Norway, officials at the Syria seed bank are receiving some of those seeds back for planting in locations in North Africa and the Middle East.
"It's awesome to see this whole process come full circle and for the true purpose of the Svalbard Seed Vault to be realized," said Allen Baler, Partner at 4Patriots LLC, a company which helps self-reliant Americans develop seed vaults of their own.
Officials at SurvivalSeeds4Patriots have long been supporters of the global seed vault in Norway, which was established so that seeds from countries being devastated by wars or extreme weather could be preserved.
"I understand that this marks the first time that seeds sent to the global seed vault have been returned to the sender for planting and harvesting, and that eventually some of the seeds from the plants grown from the current seeds will be sent to the global seed vault, which make it even more special," Baler added.
Baler reminds people that they are free to have their own stockpile of non-GMO vegetable seeds to use for planting, growing, harvesting, replanting and storing for the future. The company recommends that people use only open-pollinated, non-hybrid, seeds in their gardens – a common practice for global-quality seed vaults like the one in Norway, and which is easily achievable for the common gardener.
Providing a path to independence and self-sufficiency, SurvivalSeeds4Patriots offers the Liberty Seed Vault. The air-tight metal storage container includes more than 5,400 heirloom seeds from 21 varieties of vegetables including broccoli, spinach, carrots, squash, corn, tomatoes, onions, beets and zucchini. Each order is accompanied by four guides and a 100 percent money-back guarantee.
"After growing and enjoying these nutritious vegetables, gardeners can use the seeds from the harvest for next year's crops, so they never have to buy seeds again," Baler said. "This strategy provides additional benefits because it allows people to be less affected by food shortages and increasing food prices."
Unfortunately, not everyone is able to grow a garden. But after storms such as Katrina and Sandy, as well as many other extreme weather events, many people have learned the hard way that having a stockpile of emergency food is a must.
Food4Patriots, the supplier of emergency food suitable for long-term storage, survival and emergency preparedness, offers a product line that includes 72-hour, four-week and three-month emergency food kits.
Patriot Headquarters publishes articles, videos and news to help patriots become more self-reliant and independent from government and big business.
For more information about us, please visit http://www.survivalseeds4patriots.com
Contact Info:
Name: Tim Boyle
Email: timm.boyle@4patriots.com
Organization: 4Patriots LLC

Source: http://marketersmedia.com/survivalseeds4patriots-applauds-realization-of-global-seed-vaults-true-purpose/92405
Release ID: 92405