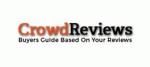 SANTA FE, NM--(Marketwired - October 20, 2016) - CrowdReviews.com, a platform for reviewing and ranking online marketing companies, has released a guide assisting those searching for pay per click management companies. The tips outline the best practices to follow in order to identify PPC management companies which most consistently meet the goals and expectations of their customers. While the tips are not a guaranteed set of steps for finding the best pay per click management company, the tips can help reduce the risk of dissatisfaction with online marketing agencies that don't consistently meet client expectations.
It is recommended for buyers of online marketing solutions consider PPC management agencies which have ample reviews written about them by their clients. Since the Internet has become a primary source of research for many businesses and consumers, it has also become an opportunity for companies to develop commentary that praises their business without having to invest into a positive client relationship. It is recommended for buyers to consult review websites ahead of testimonials and to perform research to ensure that reviews are being left by businesses which advertise on various PPC engines.
CrowdReviews.com recommends those searching for paid search marketing services to identify their requirements and objectives before selecting a PPC management company to assist them. Not all online marketing companies offer the same type of package in terms of how much guidance they provide you or in how they manage the account. It is important to receive multiple quotes from various providers and to determine which packages are most likely to achieve your desired results. If possible, get testimonials from other clients with similar requirements to yours.
Those searching for effective pay per click management companies can visit:
http://www.crowdreviews.com/ratings-of-best-pay-per-click-management-companies-based-on-user-reviews
Those interested in joining CrowdReviews.com can visit the following page to register or claim their profile:
http://www.crowdreviews.com/#registration
About CrowdReviews.com
CrowdReviews.com is a crowdreviewing platform which ranks over 500 software categories and 200 service categories.
Contact Information
Jeev Trika
800-256-5813
530-B Harkle Road
STE 100
Santa Fe, NM 87505