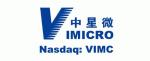 BEIJING, Dec. 19, 2011 /PRNewswire-Asia-FirstCall/ -- Vimicro International Corporation (NASDAQ: VIMC) ("Vimicro" or the "Company"), a leading multimedia semiconductor and IP-based surveillance solution provider, today announced that the Company will present at the upcoming 14th Annual Needham Growth Conference to be held at the New York Palace Hotel.  Richard Wu, Vimicro's Chief Financial Officer, will discuss the Company's business and outlook.
The details of Vimicro's presentation at the conference are as follows:



Date:

Thursday, January 12, 2012

Time:

1:30 p.m. Eastern Standard Time

Venue:

Chairman's Office, 5th Floor
The New York Palace
455 Madison Avenue
New York, NY 10022



Investors attending the conference and interested in a one-on-one meeting with the Company should contact their Needham representative, or one of the IR representatives listed on this release.
Needham and Company, LLC's 14th Annual Growth Conference is the forum for public and private institutional investors to kick-off 2012 and seek out new investment opportunities. This conference remains one of the largest and most innovative growth conferences on Wall Street. Over 325 companies will present, including some of the most interesting companies that went public in 2011. Close to 1,500 institutional investors and 150 venture capital professionals are expected to be in attendance. Over the course of three days, attendees may participate in moderated presentations inclusive of Q&A with companies as well as thematic panels with industry professionals. One-on-one meetings will be available for qualified institutional investors and venture capital firms.
About Vimicro International Corporation
Vimicro International Corporation is a leading multimedia semiconductor and solution provider that designs, develops and markets mixed-signal semiconductor products and system-level solutions that enable multimedia capabilities in a variety of products for PC/Notebook, consumer electronics and surveillance markets. Vimicro is aggressively expanding business into the surveillance market with system-level solutions and semiconductor products to capitalize on China's domestic demand. Vimicro's ADSs, each of which represents four ordinary shares, are currently trading on the NASDAQ Global Market under the ticker symbol "VIMC."
SOURCE Vimicro International Corporation