After a Blowout Jobs Report, Is The Canadian Dollar Now in Play?
April 13, 2021 at 10:00 AM EDT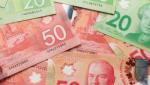 A blowout jobs report in March gave the Canadian dollar a boost, which is seeing bullish interest from traders. ETF investors can angle this play via the Invesco CurrencyShares Canadian Dollar Trust (FXC). Getting currency exposure via a ETF wrapper could help mute downturns when U.S. markets start...