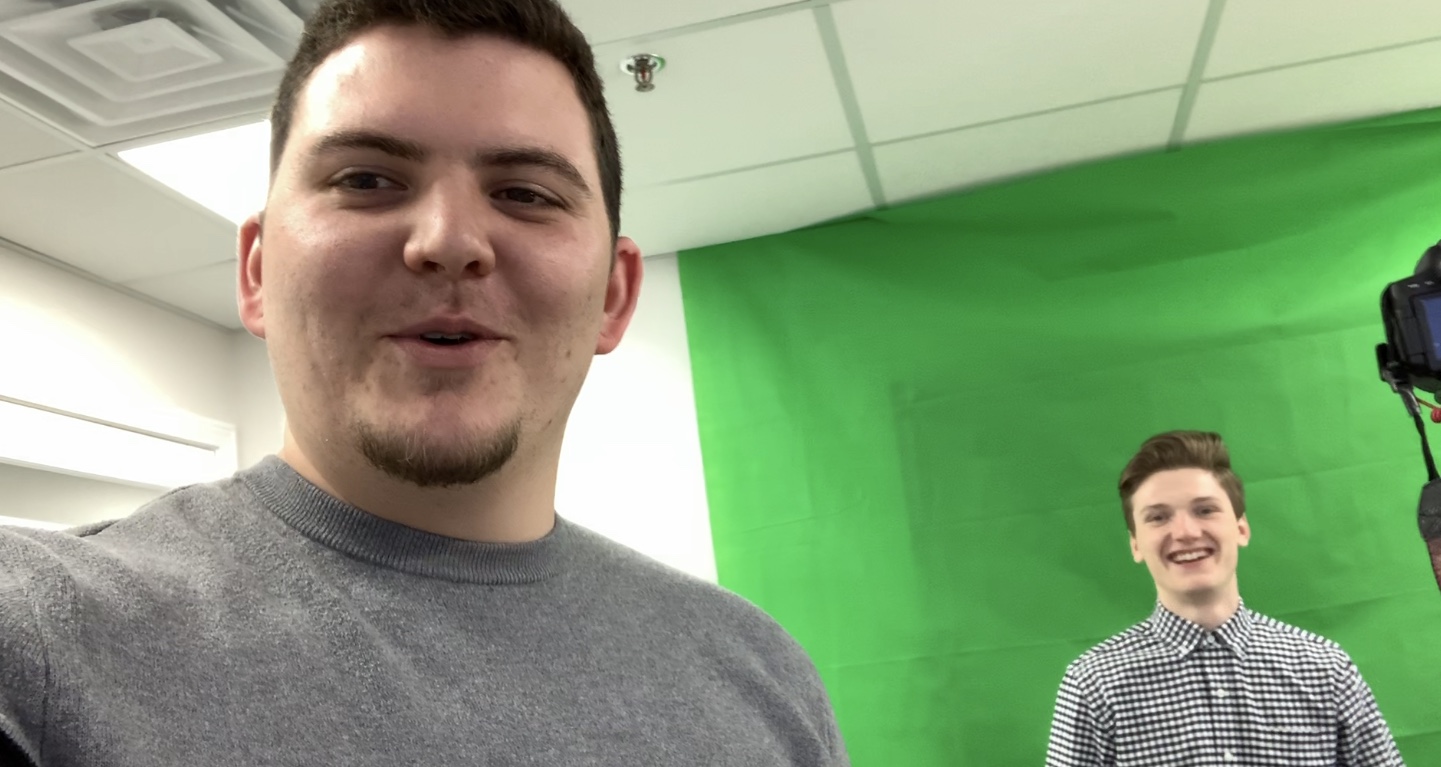 The NESMA team shooting film for their clients bringing them online.
New England Social Media Agency, a marketing and design firm based out of Derry New Hampshire, has been helping businesses for over four years get more customers but now they are helping in other ways that you may find out of the ordinary for a marketing and design firm.
A small marketing company, New England Social Media Agency, based out of Southern New Hampshire, is making a significant impact in the business community during these times. New England Social Media Agency or "NESMA" for short is leading the path in taking traditional brick and mortar stores and service providers online. NESMA originally started by white labeling service to other marketing and design providers worldwide. They were able to do work for multinational companies until the CEO, Vincent Trefethen, stepped out to the public and ventured into the small and medium-sized business sector. This taught them how to bring a first-class service at an affordable rate. "My goal is to help the people that really need help. There is a satisfaction and buzz in helping the underdog win," said Vincent Trefethen.
Since that time, NESMA has won the 2019's Best Marketing And Design Agency Award by the Derry Award Program. They have also created multiple success stories and redesigned custom turn-key marketing plans for businesses that are rescisión proof. This has made them stand up in times of hardship and stand out in times of crisis. Uniquely they have been able to pull together their resources to save business owners money on their bills in the first month. "This helps the business owner save money on the back end while we focus our attention on the front end. This allows us to create more revenue. It's this system that creates a nice ROI for the client in a short amount of time. Time, now more than ever, is the most important thing next to the companies bottom line," said Vincent.
We asked Vincent to outline his packages summing up what they are all about and how they were able to pull it all together. "We consider our packages to be a solution, not a package, let me explain. Our solution is set up in bite-sized phases. Phase one is where we evaluate the companies expenditure and create systems. We work exclusively with our network that has been crafted over the years to save the business owner money on things that they never thought possible. This includes saving money on their electric bill, gas bills, oil bills, snow removal, landscaping, dumpsters, food costing, payroll, accounting, IT, phone systems, insurance, and many other costs that you probably don't think about," said Vincent. We found this to be unique as when you think of a marketing and design company, you think of someone that creates your ads and content to get you more customers. This company does the opposite. They start by saving you money. "When you drive the cost down for a business owner you make it cheaper to operate. This means more ROI when they acquired a customer," said Vincent.
Phase two was also impressive as this is where you would think they would go to work getting them customers, but it's not. "The first phase is just clearing the land. Phase two is where we build the foundation. It's said that a foundation that is built in the sand will wash away when the storm comes, but a strong foundation will hold up for years to come. This is where we build out the business systems to bring traditional business online including their services and products while simplifying the process, saving the business owner time. In small and medium-sized businesses, time is money. The more time wasted in any business is usually amplified in size. Bill Gates sais that a problem at scale is only a bigger problem," said Vincent. It sounds like NESMA utilizes its network to drive down the cost while their team works with the owner to save them time.
Phase three is where they optimize everything and start to bring in the business. "It took us a while to get this proprietary system down, but the first time we completed this for another customer it worked so well that we decided to roll it out to everyone. Once we are done saving them money and the max amount of time, we then go to work optimizing their website to convert more customers from a technical standpoint. Then we go to work optimizing and creating their online ads to start bringing the business more revenue. This is the simple part. Many agencies fail when it comes to bringing the client's revenue. Still, they also fail to realize the other moving components in their business. This is where we come in. We do everything in our power to save them money, time and create more revenue. This all adds up to one thing, making the max ROI for their business and their family," said Vincent. 
All in all, this is the type of leadership and fast forward thinking that community and business owners need to adopt in order to stay successful in these forever changing times. Think about what drives your bottom line, think about where you spend your time and give New England Social Media a call or visit their website at www.newenglandsm.com to obtain a free marketing plan for your company. They will never pitch you but yet help you along the way. Its companies like New England Social Media Agency the #1 marketing and design firm in the US that is making a difference and a massive impact on the global economy at scale. 
Media Contact
Company Name: New England Soacil Media Agency
Contact Person: Vincent Trefethen
Email: Send Email
Phone: +1 (860) 452-0221
City: Derry
State: New Hampshire
Country: United States
Website: www.newenglandsm.com