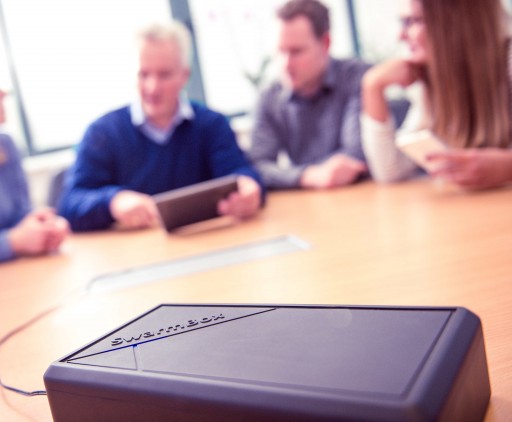 Boston, MA - May 18, 2017 - (
Newswire.com
)
SwarmWorks has been developing and delivering memorable interactive events to its clients for many years and has now packed the experience of thousands of successful meetings and events into a box: the SwarmBox. Thanks to this innovation, companies, meeting planners, facilitators, trainers and more can now create their own interactive presentations, meetings, workshops and events in a very cost-effective way.
The SwarmBox offers a wide range of interactive applications
"People want to have a say. Capturing their contributions is now possible during every presentation," says Julia Starkey of SwarmWorks Ltd. There are countless ways to dynamically interact with your audiences using the SwarmBox: Live surveys, problem-solving, feedback gathering. brainstorming, team quizzes, games and so much more.
The SwarmBox features a Multiple-Choice module that allows presenters to capture audience feedback in the form of polling, opinion surveys or even quizzes. Several types of answer scales make for variety and adaptability in the way feedback is gathered. The results are immediately available for projection and further processing. A Picture Wall module allows participants to take and display selfie pictures or idea sketches for all to see. And using the Live Blog feature, participants can directly comment on what is going on or address questions to the presenter. "It is amazing to see how many more questions will be asked if people do not have to get up and/or grab a mic to share their questions."
Great functionality and high practicability for total independence
Despite its great functionality, the SwarmBox is very easy to use so that the presenter can focus on the meeting. Simply plug the SwarmBox in and connect it to a projector, and off you go. Your audience connects to the SwarmBox just as easily. All they need is their own smartphone (or iPad/tablet or laptop). And to ensure an always-reliable connection, the SwarmBox boasts its own built-in high-power Wi-Fi, making the presenter entirely independent of any frail locally offered network. "With the SwarmBox, you involve your audience — anywhere, anytime."
Check out www.swarmbox.io/home-en/ for more details.
About SwarmWorks: Since 2008, SwarmWorks has been developing and delivering interactive events to its clients enabling them to harness the full potential of their audiences. Over 500,000 participants have thus been interactively involved in several thousands of events worldwide.
SwarmWorks deploys innovative event technology to produce memorable events that audiences as well as presenters rave about. By turning passive listeners into active contributors, audiences turn into powerful collectives that companies can tap into — The Power of We.
For more informationen: http://www.swarmworks.com/home-en
SwarmWorks, Inc.
39 Pinecliff Drive
Marblehead, MA 01945
Press contact:
Julia Starkey
Marketing Manager
e-mail: julia.starkey@swarmworks.com
Related Links
SwarmBox website
Related Images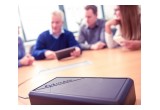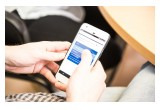 Press Release Service by
Newswire.com
Original Source:
Create Interactive Meetings & Events Using the All New SwarmBox