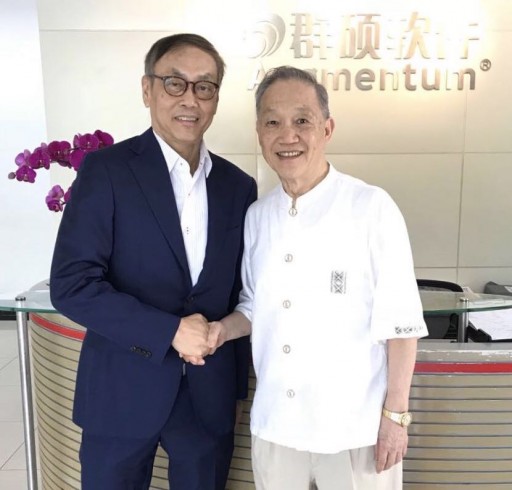 FOSTER CITY, Calif. - September 5, 2018 - (
Newswire.com
)
Augmentum, Inc., a specialist in digital transformation, enterprise software solution development, and technology services along with Gao Feng Advisory Company, a pre-eminent global professional strategy and management consulting firm with roots in China, enter into a strategic alliance in forming a Blockchain Innovation Lab and Competency Center in Shanghai, China and Silicon Valley, California.
The strategic alliance aims to explore Blockchain and Distributed Ledger Technology (DLT) for use in the design, development and implementation of Blockchain based business solutions that deliver tangible return on investment through enterprise software development and industry standards.
The Innovation Lab is designed to accelerate Blockchain innovations. The Competency Center is designed to make available a rich resource pool of skilled talents in enterprise software and Blockchain to bring Blockchain from proof-of-concept to real-world solutions.
The Augmentum-Gao Feng strategic alliance has the following focus areas:
Building technology capabilities and creating IP that applies Blockchain to building trusted networks across business sectors
Pursuing development of Blockchain based business solution through collaboration with established global industry consortium such as Hyperledger, R3 Consortium and China-based consortium such as ChinaLedger Alliance, The Financial Blockchain Shenzhen Consortium, Trusted Blockchain Telecom Application Group
Expanding Blockchain skilled resource pool in China through education and real-world solutions development experience
Assist and advise Chinese enterprises and global MNCs in China on their digital transformation journey leveraging Blockchain and related technologies such as AI and IoT
Dr. Leonard Liu, Chairman and CEO of Augmentum, said "Blockchain, the Distributed Ledger Technology was first written into China's 13th Five-Year Plan (2016-2020) for the development of information technology, along with other cutting-edge technologies including AI and IoT. Augmentum is delivering real-world Blockchain based business applications to enterprise customers, beyond the exploration and proof-of-concept stages. With this, we are also training and building a rich resource pool of Blockchain skilled talents to meet the burgeoning demand for Blockchain based solutions by customers in China and globally."
Dr. Edward Tse, Founder and CEO of Gao Feng, added "Gao Feng provides insights and ideas to solve the toughest business challenges in China. The insight-ideation-prototype-commercialization cycle requires a broad set of capabilities in both digital and technology. The Blockchain strategic alliance with Augmentum and with their real-world experience in Blockchain based solutions, allows Gao Feng to fulfill a key component of our consultancy practice."
About Augmentum, Inc.
Augmentum is a specialist in digital transformation, enterprise software solution development and technology services. Augmentum was established in the Silicon Valley in 2003 with Global Delivery Centers in Shanghai, Wuhan, and Yangzhou. Our clients include Fortune 500 companies, mid-sized companies, and startups in various industry sectors.
We have been fortunate enough to work with many leading-edge enterprises to leverage the convergence of web, mobile, social media, targeted big data analytics, the Internet of Things (IoT), and cloud computing.  
We provide enterprise software development and solution implementation services to companies worldwide by cross-leveraging best practices and domain knowledge, utilizing leading development tools and technologies. We have always delivered world-class commercial quality systems and solutions that are reliable, scalable, and extensible.
About Gao Feng Advisory Company
Gao Feng is a pre-eminent strategy and management consulting firm with roots in Greater China and global vision, capabilities, resources, and network. We help our clients to address and solve their toughest business and management issues that arise in midst of fast-changing, complicated and ambiguous operating environment. We commit to help our clients not only to "design" the solutions but assist in implementation, often hand-in-hand with the clients. 
Our behaviors are led by our values. We put our clients' interest first and foremost. We are objective and don't view our client engagements as "projects"; rather as long-term relationships. And, there is no hierarchy on our motivation and ability to assist our clients in problem-solving.
Our senior team is made up of seasoned consultants previously at leading management consulting firms and/or ex-top executives at large corporations. We believe this combination of management theory and operational experience would deliver the most benefit to our clients.    
Our name Gao Feng is taken from the Song Dynasty Chinese proverb Gao Feng Liang Jie. Gao Feng denotes noble character while Liang Jie refers to a sharp sense of integrity. We believe that this principle lies at the core of management consulting – a truly trustworthy partner who will help clients tackle their toughest issues.
Press Release Service by
Newswire.com
Original Source:
Augmentum, Inc. and Gao Feng Advisory Company Enter Into a Strategic Alliance in Forming a Blockchain Innovation Lab and Competency Center in China and Silicon Valley, California.