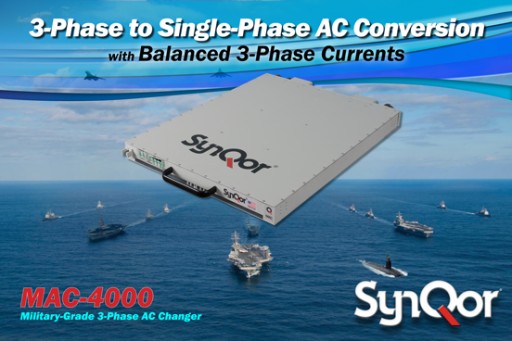 BOXBOROUGH, Mass. - May 30, 2019 - (
Newswire.com
)
 SynQor, Inc. announces the MAC-4000, a compact, military field-grade 3-phase to single-phase AC changer. This 4 kW / 5 kVA phase/frequency AC changer is designed for the extreme environmental and demanding electrical conditions of military/aerospace applications. SynQor​ incorporates in the MAC-4000 its field-proven, high-efficiency designs and rugged packaging technologies. The MAC-4000 accepts a 3-phase 440Vrms AC input and converts it to a well-conditioned, single-phase AC output using a two-stage isolated DC mid-bus topology. Options include a selection of output voltage (115 or 230 Vrms), output frequency (50, 60 or 400 Hz) and an electronic circuit breaker on the AC output that permits glitch-free, fault-tolerant parallel operation of up to 32 units in single-phase, split-phase and 3-phase configurations, as well as (N+M) redundancy. The MAC-4000 also has a floating output ground optional feature for air or sea crafts MIL-STD-1399-300B compliant applications that might require that feature.  In addition, MAC-4000 can also be equipped with an Ethernet-SNMP optional module that allows real-time remote system monitoring with trap/email.
In addition to facilitating the change of AC output characteristics from an established AC input source, the MAC-4000 also tackles the difficult problem of unbalance loads on 3-phase systems in aircraft and ships.  MIL-STD-1399-300B requires that all the phase currents be balanced to within ±5% for ships and ±3% for submarines. Achieving this high degree of the phase current balance with today's single-phase electronic loads is now easy with the new SynQor AC Changer. The 3-phase MAC-4000 allows single-phase loads to appear at the power source as a clean, well-behaved, nearly zero reactance balanced MIL STD 1399-300B compliant 3-phase load.
The MAC-4000 product is unique in its class. It by outperforms other industry solutions, in terms of output power, efficiency, reliability, flexibility, low weight and small size. SynQor's U.S. products have a proven record not only of satisfying military specifications but going above and beyond specifications to deliver the most efficient and dependable solutions in the market.
Features
4,000 W (5,000 VA) output power
Two-stage, isolated DC mid-bus topology
Balanced load currents for 3-phase sources; MIL STD 1399-300B
3-phase 360-528 Vrms L-L 3-wire input 50 or 60 Hz
115 or 230 Vrms AC output at 50, 60, or 400 Hz
Full power operation: -40 °C to +55 °C
Up to 32 units can be combined to form a higher power fault-tolerant, glitch-free system, which can also have N+M redundancy
Battle Mode for over-temperature events
1U high rack mount unit (17.00-inch W x 22.42-inch D x 1.73-inch H)
Low weight: 33 lb.
Specification Compliance
MIL-STD-1399-300B
MIL-STD-810G
MIL-STD-461F
Please click here to download the MAC-4000 datasheet and here for the Operator's Guide. The accessories page is located here.  For more information on this or for additional power application assistance, please explore more at www.synqor.com or contact your local SynQor representative.
About SynQor: Located in Boxborough, Massachusetts, USA, SynQor is a leading supplier of power conversion solutions to the military, avionics, transportation, medical, industrial, telecommunications and computing markets. SynQor's innovative products are designed to exceed the demanding performance, quality and reliability requirements of today's power electronic engineers, who develop leading-edge infrastructure hardware. SynQor provides all the power conversion modules needed to build a power system, and we also provide complete power systems. SynQor's capabilities include both standard and custom solutions, and we deliver them with industry-leading service and support. SynQor's total commitment to quality, customer satisfaction and continuous improvement drives our business processes.
Related Links
SynQor Military Products
Related Images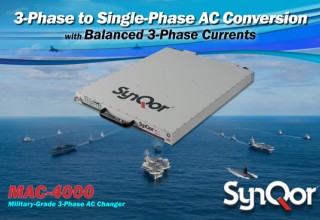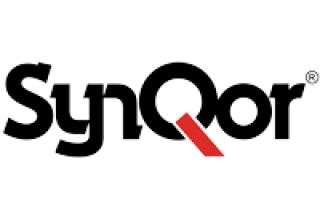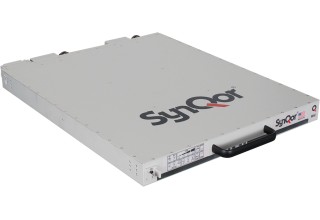 Press Release Service by
Newswire.com
Original Source:
SynQor® Releases an Advanced Military Field-Grade 4 kW / 5 kVA AC Changer (MAC-4000)