Where's The Foodtruck will celebrate the launch of its Catering Request Fulfillment and Foodtruck Location service by giving away cash gift cards to lucky winners https://wtfWheresTheFoodtruck.com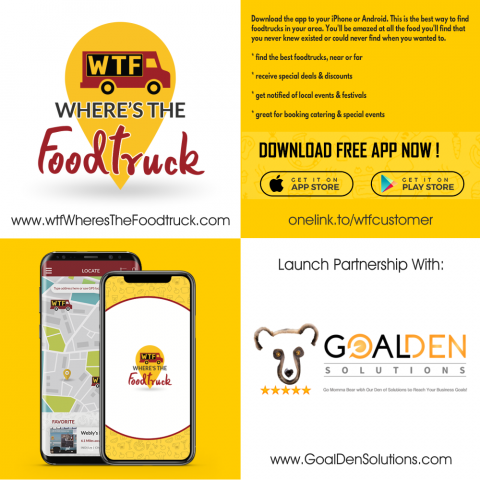 Henderson, United States - December 6, 2018 /PressCable/ —
Experiencing an explosion of food truck catering requests for the holiday party season, the marketing and tech company 'Where's The Foodtruck' is partnering with digital marketing agency GoalDen Solutions to add a robust Catering Request Fulfillment feature to their food truck services. To celebrate the launch of this and other new features to their mobile app and website, and to stimulate holiday spending, Where's The Foodtruck will host cash gift card giveaways through their social media. It's reported the event will begin on Monday, December 10, 2018.
In a space where most competitors simply have a location app and fail to provide much of a service, Where's The Foodtruck has opted to be more innovative with the inception of its new Catering Request Fulfillment features through its downloadable app and social media. GoalDen Solutions is assisting in the deployment of their new features nationwide and augmenting WTF's recently updated Foodtruck Location feature.
Nicholas Spindel, founder of Where's The Foodtruck, says: "We wanted to be innovative with our Catering Request Fulfillment and Foodtruck Location service updates because it reflects our own roots and the backbone of the food truck industry. Being from New Orleans, but residing in Las Vegas, we intertwine the laissez-faire with the over-the-top style of both amazing cities. And food truck owners are all about going against the grain, being innovative, creative, and standing out in the crowd."
"It should be really worthwhile and we're hoping it will help WTF reach 25,000 downloads, as well as help businesses and holiday party hosts throw elevated catered parties. It should go great unless Elon Musk suddenly creates a way no one ever needs to eat," added Darcey Hall, owner of GoalDen Solutions.
Where's The Foodtruck has always thrived on the idea of standing out and making a commotion. It's all part of the fun and it's going to effectively make a difference in the food truck industry, which we think is better than businesses who choose to do things the 'regular' way. This new feature launch celebration is just one of the many ways Where's The Foodtruck achieves that goal.
When asked about the Catering Request Fulfillment and Foodtruck Location service, Spindel said: "We think it's going to be a real hit because party hosts know that the standard boxed catering options of ham, turkey, or veggie just won't cut it; and Millennials want the food truck experience, but not the hassle of the search. The former isn't memorable; the latter is a memory we try to forget."
Where's The Foodtruck's Catering Request Fulfillment and Foodtruck Location service is set to 'go live' Monday, December 10, 2018. To find out more about the service and Where's The Foodtruck itself, visit https://www.wtfWheresTheFoodtruck.com or download the free app from your phone's app store by searching "WTF".
About WTF!?! WHERE'S THE FOODTRUCK?
WTF!?! Where's The Foodtruck? is a free app to help foodtrucks better market themselves and become more successful than they already are. With a history of operating restaurants and nearly a foodtruck owner himself, founder Nicholas Spindel knows how difficult it is to bring in more guests and how important each and every sale can be, every dollar contributing to the business' success. Users can find and food trucks can be found.
About GOALDEN SOLUTIONS:
GoalDen Solutions is a full-service digital marketing agency with expert teams for SEO, websites, social media, lead generation, reputation management, and ADA Compliance Optimization. They have a "Den of Solutions to Help Businesses Reach Their Goals". GoalDen Solutions also enjoys giving back to the community through volunteering time and charitable donations for local, national and international charities.
Contact Info:
Name: Nicholas Spindel
Email: Send Email
Organization: Where's The Foodtruck
Address: 1453 Summer Glow Ave, Henderson, NV 89012, United States
Phone: +1-504-662-2968
Website: https://wtfWheresTheFoodtruck.com
Source: PressCable
Release ID: 455463