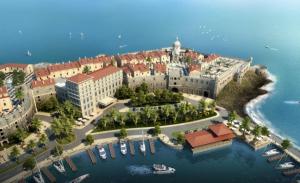 LOS ANGELES, USA, May 28, 2018 /
EINPresswire.com
/ -- Mr. Summer Ren, Managing Director (Asia-Pacific) of Nightshade Studios said: "We are excited to initiate the development of Nightshade Studios very own private resorts in the Asia Pacific region. In the next few years, we will initiate full-scale land development across the Asia-Pacific region. We plan to develop more high-end integrated residential and commercial buildings, and to develop a world-class, luxurious private resort in Southeast Asia - NIGHTSHADE CITY.
Nightshade Studios have the confidence that it will raise the level of high-end entertainment services throughout the Asia-Pacific region expects to create a large number of job opportunities during the construction period and the operation of the resorts. This also clearly demonstrates the Nightshade Studios' full support for China's One Belt and One Road initiative
About Nightshade Studios
Nightshade Studios is an international holding company founded in 2009 that focuses on the entertainment industry. The Group is involved in a diversified range of sectors, especially in the five major business entities such as e-commerce, event planning management, gaming industry, luxury travel and real estate.
In 2018, it officially entered the Asia-Pacific region, and its subsidiary Opulence Development also actively developed high-end integrated commercial housing in Southeast Asia. Nightshade Studios has always been famous for successfully creating numerous award-winning projects and services.
The performance of the Group continues to be extremely impressive and leads the European region.
The Nightshade Studios is actively expanding its overseas development opportunities. At present, the Asia Pacific region is the first choice for the Group's overseas business as they continue striving to provide Asia Pacific customers with world-class unique high-end entertainment services.
Henry Stevens
Nightshade Studios
+16465830333
email us here