Mobilicom Releases Network Management Application (MC-NMA) for Governmental & Enterprise Sectors
February 22, 2018 at 08:00 AM EST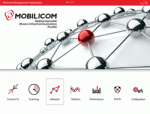 Mobilicom's Newly launched Network Management Application (MC-NMA) offers an easy and user-friendly way for mission & network managers to manage their Mobile MESH networks. MC-NMA adds a software solution to Mobilicom's MCU hardware solutions and enables effective decision making in real-time operations.
(PRWEB) February 22, 2018
Mobilicom has released its MC-Network Management Application (MC-NMA) for mission and network managers in the governmental and enterprise sectors.The MC-NMA is an add-on to Mobilicom's communications Unit (MCU) products and enables its 4G Mobile MESH network management.
The MC-NMA logs data for analysis, configuration and maintenance purposes, providing an easy and user-friendly way for mission & network managers to manage their Mobile MESH networks . It operates on a computer or portable device directly connected to an element within the network as well as over the air.
Mobilicom's MC-NMA user benefits include:

Network viewing tool for effective decision making in real-time operation.
One-click configuration for all network elements.
Easy pre-mission and network planning including one-time set-up.
Mobile MESH Network optimization & analysis.
Intuitive interface and easy access including colorful & display and useful buttons.
A few of MC-NMA key features include:
Live view & location tracking of all network elements on a map (auto discovery).
On-line statistics for the entire network / per element including quality level and capacity in various time resolutions.
Real-time alerts on network events and reporting with smart logger for advanced search & analysis capabilities.
Online configuration and offline network & topology planning.
Over-The-Air Upgrades.
Graphs and chart reports of network performance.
Built-in map downloader tool & frequency scanner.
About Mobilicom
Mobilicom designs, develops and markets solutions for mission critical and remote mobile private communication networks without the need for, or use of, any existing infrastructure. Mobilicom's products and technology are based on an innovative approach that merges 4G communication with Mobile MESH technologies into a unified solution, with a number of product families that have been commercially deployed. Mobilicom develops in-house and fully owns all assets for its unique technology and solutions, including: 4G modem, MESH networking, radios, HW & SW applications, among others. The technology is backed by its patent holding and know-how. Mobilicom assures optimal, resilient and secured wireless communications where others do not.
For more information visit:http://www.mobilicom.com
For the original version on PRWeb visit: http://www.prweb.com/releases/2018/02/prweb15226072.htm