Can Bitcoin and ESG Co-Exist?
March 02, 2021 at 12:05 PM EST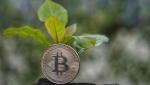 On the surface, it might be difficult to comprehend how Bitcoin and environmental, social, and governance (ESG) investing might affect each other. However, the two are more closely linked than one might imagine. "Bitcoin is nursing losses after its worst weekly plunge in almost a year and on...