Panama City, FL, 3rd Generation local fishing Captain cautions tourists. When planning a vacation adventure - The 4 important issues to consider before booking a fishing charter company.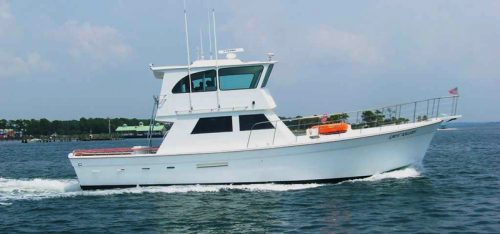 Panama City, FL, United States - January 26, 2021 /MarketersMedia/ —
A deep-sea fishing trip can easily be one of the most exciting and memorable experiences to be had. But how exciting and memorable the trip will be will depend on the fishing charter company booked. Irrespective of the skills and experience an individual or group has, hiring a fishing charter can offer a lot of opportunities to learn. However, caution is needed to pick the right fishing charter to ensure a great overall experience. According to Third Generation Captain, Mark Kelley, of Panama City, Florida, here are some of the things that need to be kept in mind when planning and hiring a local fishing charter to have the best experience possible –
Skilled and Experienced Captain and Crew Members:
For a successful fishing trip, a knowledgeable and experienced captain and crew members are essential. The captain and the crew need to have required licensing, Federal or State and be experienced enough to know how to handle the vessel during a variety of conditions including possible turbulent weather. Carson Kelley, the Fourth Generation Captain in the Kelley Family, says that by using experienced local Captains and crew members, guests can be assured they are in expert hands.
"The crew will have excellent skills in locating the desired fish species depending on various factors. They will provide all the high-quality fishing tackle and equipment, know the baits for each kind of fish, and be aware of the current permits and seasons for fishing specific fish. Crew members will also be on call for the guests for help if needed, like getting a prize catch onboard."
Prioritize Safety at Sea:
When booking a fishing charter, safety is of the utmost importance. Numerous incidents can occur while at sea, such as weather changes, ocean storms, boat collisions, and more. Capt. Kelley advises checking the fishing charter company for provisions of sufficient life jackets on board, crew member's knowledge of first aid and CPR, condition of the vessel, and the charter's insurance liability for accidents to ensure that everyone onboard can enjoy themselves without any cause for concern.
Vessel Size and Speed:
Selecting the right vessel type is essential to make any charter fishing trip a grand success. The size of the vessel chosen will depend on group size. Too many people on deck restricts room to get around, cast lines, and of course, landing the fish. Charter vessels between 33 to 60 feet are ideal for the best fishing experience. Ensure that the vessel has good speed so that it is easier to reach the fishing spot sooner. Heavier boats make sailing easier and are safer due to their sturdiness.
When in Panama City Beach, FL. whether you go out on The Lady Kelley, which is 55 ft. or The Kelley Girl, a 52 ft. fishing boat there will be plenty of fishing room for up to 20 people on the Kelley Girl and 20 on the Lady Kelley. Both boats have bathrooms, are AIR-CONDITIONED, and exceed U.S. Coast Guard Regulations. Capt. Mark and Capt. Carson will ensure guests have a great day out on the water in the beautiful Gulf of Mexico and get them on to the fish that are biting.
Location:
When planning and booking a deep-sea fishing charter in Panama City, it is important to book one close to the hotel location being stayed in. It doesn't make sense to book a charter company located far away, even if the prices being offered less expensive. The fishing vessels leave incredibly early in the morning for the private charter trips, so it might be a challenge reaching a location on the opposite side of the town or city for a 6 am trip departure time.
The above factors should not be overlooked when choosing a fishing charter, as it will shape the kind of stories that can be shared with friends and family once back from the trip. It is advisable to check the whole package and the customer service a fishing charter company offers rather than just selecting on price. The quality and experience with a highly experienced Captain and crew will far outweigh a smaller, cheaper operation.
Capt. Mark highly recommended, "private fishing charters for the quality of service, knowledgeable Captains and crew and the highly personalized fishing experience catered specifically to the guests."
Kelley Girl Charters has 4 hours to 2-day fishing trips that are perfect for individuals' needs and budget and can be contacted on (850) 866-5694 to book.
Contact Info:
Name: Capt. Mark Kelley
Email: Send Email
Organization: Kelley Girl Charters
Address: 5550 North Lagoon Drive, Slip 00E, Panama City, FL 32408
Phone: (850) 866-5694
Website: https://kelleygirlcharters.com/
Source URL: https://marketersmedia.com/3rd-generation-captain-warns-4-key-things-you-need-to-know-before-booking-a-fishing-charter/88994902
Source: MarketersMedia
Release ID: 88994902