ID Roofing provides accessible and affordable roofing solutions with different financing options.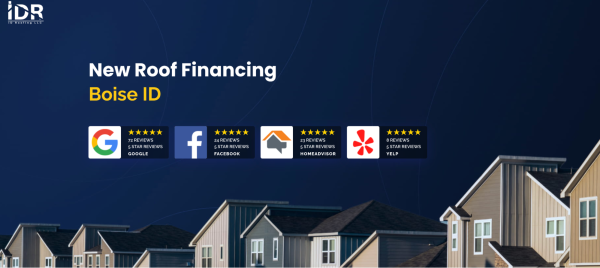 ID Roofing, a prominent Boise-based roofing company, is thrilled to declare its dedication to helping homeowners in the area access top-notch roofing services effortlessly through its flexible financing choices. In response to the financial hurdles posed by roofing projects, the company has customized its financing programs to provide accessible and cost-effective solutions, catering to the diverse budgets of homeowners.
As the summer season comes to a close and inclement weather looms ahead, ID Roofing is pleased to unveil multiple roof financing plans for its valued customers. The company understands that not everyone may be financially prepared for a roof replacement, and its program allows homeowners to secure a new roof with low monthly payments or the option to defer payments for up to one year, without incurring fees and with swift approvals.
Jeramie Kramer, spokesperson for ID Roofing, expressed, "At ID Roofing, we are dedicated to providing exceptional roofing services that align with our customers' financial capabilities. We recognize that roofing expenses can vary based on individual needs, so we offer flexible finance programs to accommodate every homeowner. Our goal is to simplify the process and alleviate any financial burden, ensuring that our customers can obtain the roof they need, regardless of their financial readiness."
Established in 2019, ID Roofing embarked on a mission to deliver top-tier, durable roofs at affordable prices, supported by the industry's best warranties. Boasting the distinction of being a preferred contractor with Owens Corning and a recipient of the HomeAdvisor award, ID Roofing has earned a reputation for its unmatched workmanship and unwavering dedication to customer satisfaction. As a Google Guaranteed contractor, the company upholds its commitment to excellence and reliability.
"We take immense pride in being more than just a roofing company. Our focus is on supporting homeowners throughout their roofing journey, from installation to long-term maintenance," added Jeramie Kramer. "By offering unparalleled roofing services and flexible financing options, we aspire to become the top choice for homeowners in Boise and the surrounding areas."
To learn more about ID Roofing, visit: https://www.idroofs.com
Get a glimpse of their latest projects at https://idroofs.com/our-projects/#/
Follow the latest updates from ID Roofing at https://www.facebook.com/idroofs
For any questions or inquiries, email Jeramie Kramer at jeramie@idroofs.com
For a free estimate, call +12084327663
About ID Roofing LLC
ID Roofing is a premier roofing company in Boise, Idaho, specializing in high-quality roofing services with exceptional warranties. As a preferred contractor with Owens Corning and a HomeAdvisor award recipient, they deliver top-tier solutions and unmatched customer service to Boise homeowners.
Media Contact
Company Name: ID Roofing LLC
Contact Person: Jeramie Kramer
Email: Send Email
Phone: +12084327663
City: Boise
State: Idaho
Country: United States
Website: idroofs.com