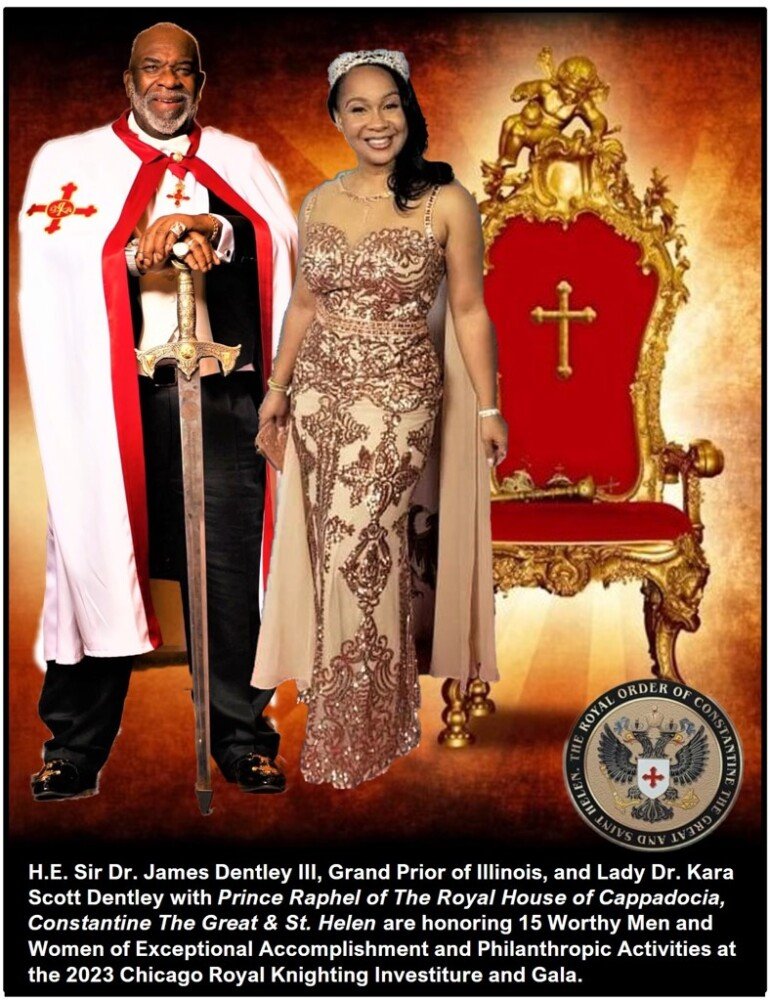 H.E. Sir Dr. James Dentley III, Grand Prior of Illinois, along with JD3 Media Inc., will host Prince Raphel and The Royal House of Cappadocia, Constantine The Great, and Saint Helen in Chicago, IL. on Saturday, June 10, 2023, for a Royal Meet & Greet at The Gold Coast Bentley and Rose Royce Dealership in downtown Chicago, from 5:30 PM to 10:30 PM. Champagne and appetizers will be served with an open bar. Join them for an evening of high-level networking, collaboration, live entertainment, and fun with business leaders and nobles of The Royal House.
For ticket information, go to. https://www.eventbrite.com/e/the-royal-meet-greet-charity-event-tickets619365417637?aff=ebdssbdestsearch
On Sunday, June 11, 2023, attendees will witness 15 individuals being given titles of nobility as Knights (Sir) and Dames. (Lady) by H.R.H. Prince Rafael Andujar y Vilches, the Sovereign and Prince Grand Master. They will also witness the ennoblement ceremonies of three Knights, Sir James Dentley, Sir. Sid Leluan and Sir Alex Stern to the noble, hereditary titles of Baron and two spouses, Dame Kara Dentley and Dame Debbie Leluan, to Baroness Consort. Attendees will also celebrate the installment of Alec Stern, as the U.S. Grand Prior General, Dame Krystylle Richardson, as the Grand Prior of Arizona, Dame Didi Wong, as Grand Prior of Florida, and Sir Brad Blazar, as Grand Prior of Texas, together with their advances to Knight and Dame Grand Cross. We will also witness the new Priors, Former NBA star Sir. Rolando Blackman, of Dallas, TX, and Grammy award-winning artist, Sir. Billy Dorsey of Houston, TX., and their advances to Knight Commander. Each Grand Priory serves a dual function as a Consulate of the Principality of Cappadocia, a sovereign nation.
The Royal Order of Constantine the Great and St. Helen began in 324 AD. This Foundation ("Foundation") is an IRC 501(c)3 charitable organization. The Royal Order of Constantine the Great and St. Helen is an IRC 501(c)10, a fraternal organization. The mission of the Royal Order of Constantine the Great is to create a forum for the worldwide community by recognizing worthy men and women of exceptional accomplishment. Those who share a belief in chivalry, the power of faith, hope, and charity deserve to be a part of the Sovereign and Royal House of Cappadocia's Orders of Chivalry and its Nobility. The Royal Order will sustain, teach, and propagate the Principles of the General Order of Knighthood, following the Knight's and Dame's code:
• A Knight and a Dame are sworn to valor.
• Their heart knows only virtue.
• Their blade defends the helpless.
• Their might uphold the weak.
• Their words speak only the truth.
• Their wrath undoes the wicked.
• Their knowledge will defeat ignorance.
• Their skills will be taught to the willing.
• Their temper shall be held by patience.
• They will give aid to those who seek it.
• They will ask for aid when needed."
These principles have been defined throughout the history of the Royal Order of Constantine the Great and Saint Helen, with the core values: of protecting the weak and innocent, fighting against injustice and oppression, and striving for self-improvement, and the betterment of the community and individual lives.
For more information about the event or to purchase tickets, visit the event website online at https://www.principalityofcappadocia.orghttps://www.principalityofcappadocia.org.
About JD3 Media, Inc.
JD3 Media, Inc. is the creator and owner of JD3TV, founded by H.E. Sir Dr. James Dentley III. This progressive streaming platform's mission is to inspire, educate, and entertain. Sir James is also a best-selling author, philanthropist, and entrepreneur, and he is recognized as one of the world's most renowned motivational speakers and communication mentors.
JD3TV is the streaming home where its viewers are the priority. JD3 Media, Inc. aims to transform lives through quality, impactful programming that inspires and entertains audiences worldwide. https://authoritypresswire.com/jd3tv-a-new-streaming-platform-with-the-unique-ability-for-subscribers-to-launch-their-own-tv-show-or-series-just-like-those-on-netflix-hulu-or-amazon-prime.
Learn more at https://www.jd3tv.com and watch exclusive originals and shows from their favorite channels, all in one place, using our app on Google Play, The App Store, and Roku T.V.
A JD3TV membership offers people the opportunity to win gifts, prizes, and even exotic vacations. This one-of-a-kind streaming platform brings movies, talk shows, sports, educational shows, exclusive original feature films, short-form content, and documentaries streaming only on JD3TV.
Register to become a member of the JD3 community and receive a blue tooth speaker valued at $159.00. Taxes and shipping fees will apply.
For those interested in personal and business development, join their masterclass for exclusive content from global leaders in life and business, plus have access to its live mastermind sessions every month at no additional cost!
To learn more about H.E. Sir Dr. James Dentley III, go to https://businessinnovatorsmagazine.com/dr-james-dentley-is-highly-recognized-as-a-global-leader-business-strategist-entrepreneur-speaker-author-on-google-and-over-350-major-media-network-sites