Failing grades reflect disruptions and students' lack of resources due to pandemic, experts say
Brian Romo's sister asked witnesses to put themselves in her family's shoes and step forward
Artistic director James Darvas said a sign and marquee showing support after George Floyd's death sparked anger and a threat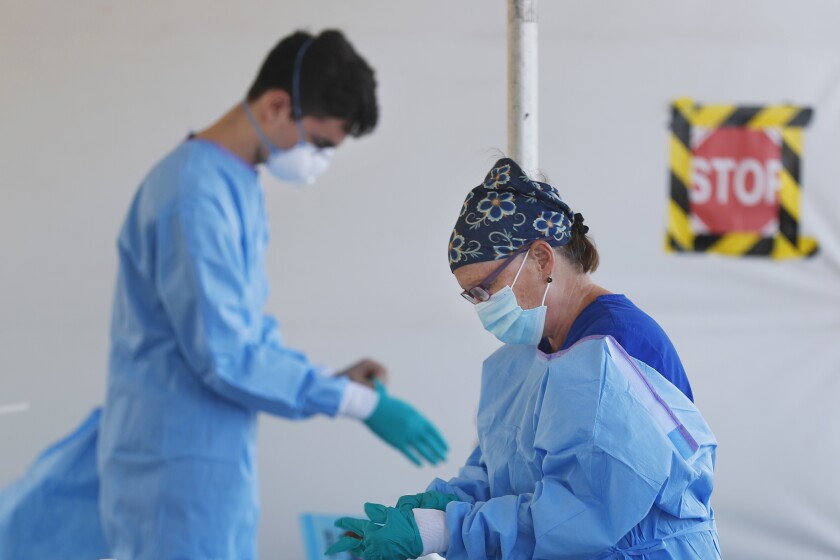 The county's adjusted case rate was 13.1 cases per 100,000 residents, far above the 7 cases that might help lift some restrictions
Online spending is projected to hit $8.9 billion, a 20 percent jump over last year
Most counties in the state are now suffering their worst coronavirus daily case rates of the entire COVID-19 pandemic
The 17-year-old victim was found in a neighborhood alley

The victim was found with a gunshot wound near the Rodeway Inn off Interstate 8

Police do not have a description of suspect or suspect's vehicle

The fire was first reported shortly after 1 p.m. on Japatul and Japatul Valley roads near Alpine

SDG&E expects power will be restored around 5 p.m.
Monday, Nov. 30
Broadcasts will resume after the Thanksgiving holiday.
Get Essential San Diego, weekday mornings
Get a special coronavirus news summary from the Union-Tribune in your inbox weekday mornings along with other top news headlines.
You may occasionally receive promotional content from the San Diego Union-Tribune.
Shamine Linton is the founder and president of Sharia's Closet, a San Diego nonprofit providing emergency clothing and toiletry items to local families and individuals experiencing financial hardship or other crises

The Elizabeth Dole and Bob & Dolores Hope foundations plan to give a combined $200,000 to 400 to 500 eligible families by Christmas
A federal appeals court in Philadelphia has rejected President Donald Trump's latest effort to challenge the election results in a case expected to reach the U.S. Supreme Court if Trump appeals

Democrat Joe Biden may have produced a winning national formula, but it wasn't by trimming — or even holding — Donald Trump's 2016 winning margins in hundreds of counties across the agricultural and industrial north
Ohio State officials say they don't yet know when the third-ranked Buckeyes can get back on the field as they deal with a COVID-19 outbreak

The raging coronavirus pandemic has prompted Los Angeles County to impose a lockdown to prevent the caseload from spiraling into a hospital crisis but the order stops short of a full business shutdown that could cripple the holiday sale season

Police say a shooting at a Sacramento mall on Black Friday has killed one person and left another with life-threatening wounds
Racial Justice Commentary
I am thankful for the gift of health and one more day on this planet because at my age it is a gift.

This Thanksgiving season, I choose to be thankful.

I am grateful for all people of compassion who give to help our neighbors in need.

We found harmony in this wonderful community.
A diversity of views and perspectives
The Community Voices Project is a forum for respectful discourse about news of the day and matters of the community that brings dozens of thought leaders together in a public dialogue, which can be a model for others.
Stocking stuff scavenger hunts, live camels and reindeer hanging out with Santa, and a 30-foot tree fashioned from 245,000 forest green Lego bricks are among the holiday enticements that SeaWorld and Legoland are offering to lure visitors at a time when COVID-19 restrictions are still limiting visitation to theme parks.
Vanessa Malibago, a registered nurse working in the ICU at Scripps Mercy Hospital Chula Vista, checks on her patient who has been diagnosed with COVID-19 on Tuesday, Nov. 24, 2020 in Chula Vista, CA.
(Nelvin C. Cepeda / The San Diego Union-Tribune)
Debbie Howard had her temperature checked before being allowed to enter the San Diego Rescue Mission facility on Saturday, November 21, 2020 in San Diego. Because of the pandemic, the dining tables had to be set up at the parking lot structure and social distancing requirements were strictly enforced.
(Nelvin C. Cepeda / The San Diego Union-Tribune)
A veteran greets a volunteer escort at the annual "Stand Down" event hosted by non-profit organization Veterans Village of San Diego on Sunday, Nov. 22.
(Kristian Carreon / For The San Diego Union-Tribune)
Darian Schramm of Sherman Heights walks on rocks with his son Wolfgang Schramm, 3, at the Old Mission Dam in Mission Trails Regional Park on Tuesday, Nov. 24, 2020 in San Diego, CA.
(Sam Hodgson / The San Diego Union-Tribune)
David Higareda (r) and Joel Dapper (l) walk past the corner of Ninth Avenue and G Street in downtown San Diego near a large mural painted by local artist, Carly Ealey. Curfew restriction begins Saturday. The state curfew requires any county in the most restrictive, "purple" tier of the state's reopening system, which includes San Diego, to limit "all gatherings with members of other households and all activities conducted outside the residence, lodging, or temporary accommodation with members of other households."
(Nelvin C. Cepeda/The San Diego Union-Tribune)
On Thursday, Nov. 19, 2020 in San Diego, CA., the evening rush hour traffic on both the northbound and southbound lanes near downtown appeared to be moderate compared to previous days. Thursday afternoon, the California health department announced a "limited stay at home order" designed to limit the spread of infection in the community.
(Nelvin C. Cepeda/The San Diego Union-Tribune)
Exercisers run the stairs at the San Diego Convention Center in the Gaslamp Quarter in downtown San Diego on Thursday, November 19, 2020.
(Sandy Huffaker/For The San Diego Union-Tribune)
Don's Cocktail Lounge bartender Diana Reynolds hustles a bucket of beers to waiting customers in the bar's parking lot in El Cajon. On Tuesday the bar's inside lounge was roped off and closed to customers to meet state regulations that required restaurants and bars to move outdoors due to elevated coronavirus case rates.
(Nelvin C. Cepeda/The San Diego Union-Tribune)
Resident Nurse Stacey Sundling, a public health nurse for the County of San Diego, administers a Covid-19 test for Lyla McGinnis 4, as her mom Melissa looks on holding her son Levi, 10 months, at Cal State University San Marcos, one of the busiest testing centers in San Diego County on Monday, Nov. 16, 2020 in San Marcos, CA.
(K.C. Alfred / The San Diego Union-Tribune)
Images from Union-Tribune staff and contributing freelance photographers
U-T journalist Annie Heilbrunn spent the day at a super poll location in La Mesa, talking to voters about the importance of this year's election.
The Padres partnered with The Jacobs & Cushman San Diego Food Bank to feed more than 600 families in need this holiday season.
Del Mar's big turf festival continues
ICE uses physical abuse, solitary confinement and false documents to force Black and African asylum seekers onto 'death planes'
Veterans Village of San Diego, along with many partner organizations, hosted a scaled-back, socially-distant version of its annual 'Stand Down' event Sunday morning.
USO trip including nail-biting helicopter rides, carrier landing opened eyes of baseball veteran
Former Hollywood actor Scott Eberlein joined the Army after 9/11 and now works to keep civilians out of harm's way in combat.
Ten percent of U.S. veterans are women yet there is a dearth of V.A. facilities named after female service members
Sign up to get Breaking News email alerts
Get alerts on severe weather, road closures and other major breaking news.
You may occasionally receive promotional content from the San Diego Union-Tribune.