The La Jolla Parks & Beaches board votes to create a code of conduct to avoid future issues; vows to work toward inclusivity
Some of the houses targeted had Trump 2020 signs and flags
Officials report 330 new cases and 12 new outbreaks
The airline industry is promoting new studies that suggest the risk of contracting COVID-19 while flying is low. Let's take a closer look at the assertions.
N.C. Republicans had argued the state Legislature, not state election board, sets the rules for elections.
The crash occurred about 9:40 a.m. Thursday about four miles away from the Henderson Executive Airport

San Diego police sent a picture of the remains to a forensic anthropologist, who said they appeared to be human remains

San Diego police said the SUV driver took off when an officer tried to stop the vehicle

A young Tunisian man armed with a knife and carrying a copy of the Quran attacked worshippers in a French church and killed three Thursday, prompting the government to raise its security alert to the maximum level hours before a nationwide coronavirus lockdown

Federal officials say the gray wolf no longer needs protection. But conservationists disagree and are preparing to challenge the decision in court
The poll, released Tuesday, shows a reversal of fate for Campa-Najjar who went from polling neck-and-neck with Issa to now trailing by 11 percentage points
Thursday, Oct. 29
10:00 a.m. | Live Q&A with Joan Lunden
Join the conversation with Award-winning journalist and bestselling author Joan Lunden. Register for free by clicking on the link above.

12:00 p.m. | Together San Diego
Sean Spear, CEO of Community HousingWorks, joins us to talk about how the pandemic and social justice issues have exacerbated the need for affordable housing and what Community HousingWorks is doing to address these needs.

1:20 p.m. | San Diego News Fix
Chalk art on a La Jolla bike path has become a political flashpoint, with some La Jollans calling for the removal of two Parks & Beaches board members because of comments made about BLM. Reporter Lauren Mapp discusses the controversy.
Get Essential San Diego, weekday mornings
Get a special coronavirus news summary from the Union-Tribune in your inbox weekday mornings along with other top news headlines.
You may occasionally receive promotional content from the San Diego Union-Tribune.
PHENOMENAL WOMEN
Fifth in a series: A project marking the 100th anniversary of the 19th Amendment
Racial Justice Commentary
A diversity of views and perspectives
The Community Voices Project is a forum for respectful discourse about news of the day and matters of the community that brings dozens of thought leaders together in a public dialogue, which can be a model for others.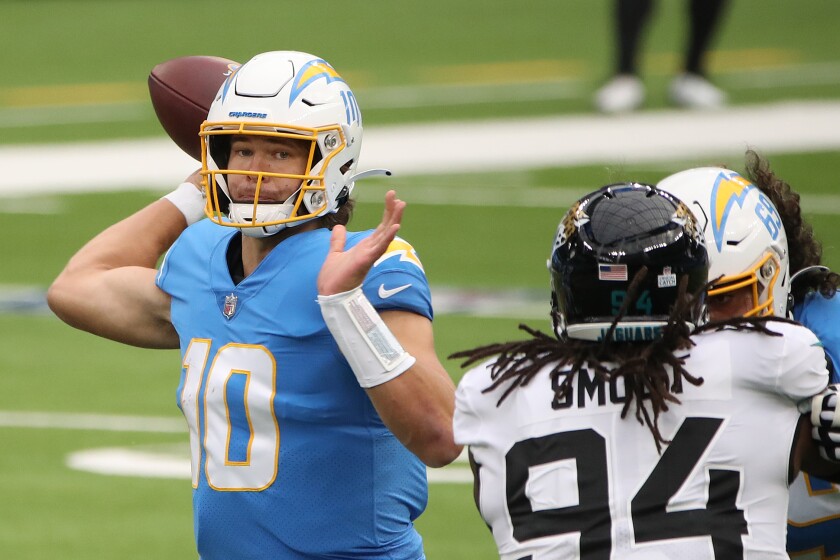 An in-depth look at Week 8's NFL matchups and how they'll affect your fantasy football lineup
VIDEO | 31:37
ImmunityBio CEO Dr. Patrick Soon-Shiong discusses the company's upcoming COVID-19 vaccine trial
The Food and Drug Administration has cleared ImmunityBio to begin testing an experimental COVID-19 vaccine in clinical trials, according to an announcement issued Thursday by the Southern California biotech.
VIDEO | 09:40
Returned: What happens when the asylum system doesn't protect someone in danger
"Returned" is a multi-part series launched by the Union-Tribune this year that investigates the U.S. asylum system.
Brawley doctor details the grueling path back to life after 52 days spent on life-saving machine.
324 U.S. citizens are missing in Mexico, according to Mexico federal numbers
What's at stake when asylum is denied? After deportation, many Central Americans are killed by the people they fled.
For Central American migrants fleeing gang violence, winning protection in the United States can be particularly difficult
Immigration reporter Kate Morrissey shares experiences from her trip to San Pedro Sula for the third installment in a series on the U.S. asylum system
"Returned" is a multi-part series launched by the Union-Tribune this year that investigates the U.S. asylum system.
Blue Star Learning used fake students and graduates to fraudulently obtain millions in G.I. Bill funding over three years
Sgt. Tristan King's social media photos have been stolen and used by others to open fraudulent accounts using his name
Eight Marines and a sailor died when their assault amphibious vehicle sank off San Clemente Island July 30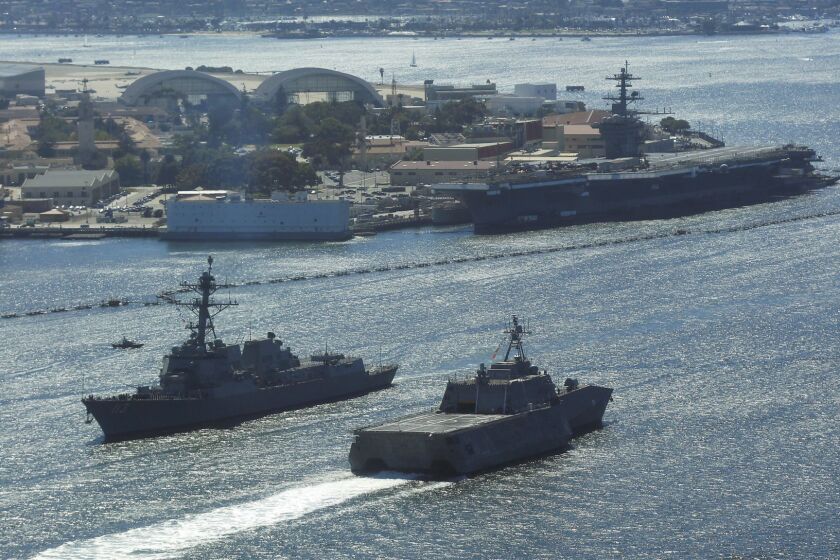 The report found increases in spending and jobs in the defense sector has helped stabilize the local economy
Sign up to get Breaking News email alerts
Get alerts on severe weather, road closures and other major breaking news.
You may occasionally receive promotional content from the San Diego Union-Tribune.