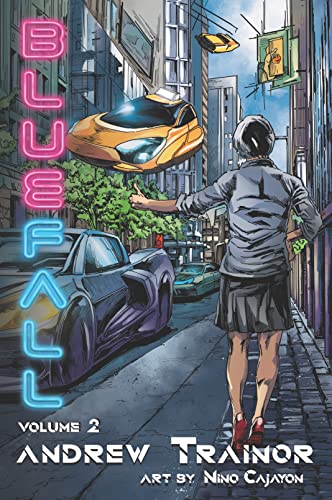 "Bluefall: Vol. 2" by Andrew Trainor has been released worldwide. This futuristic, beautifully illustrated graphic novel is the second installment in Trainor's "Bluefall" series, which explores the virtual universe of Circus, a digital world dominated by the financial industry. When Felix Reichard, the creator of Circus, is murdered, LAPD detective Julian Ambrose must venture into virtual reality to find the killer. He soon discovers a vast conspiracy among the financial elites that not only led to Reichard's death, but also threatens the stability of society at large.
Working with illustrator Nino Cajayon, Trainor's vibrant, cyberpunk world of Bluefall comes alive with striking detail, rich storytelling, and a compelling mystery that brings readers into the darkest regions of Circus.
A powerful follow up to "Bluefall: Vol. 1," the author explores new zones of the virtual landscape, introduces new characters, and offers a prescient critique of the tenuous financial systems of the modern world. This second volume builds on the foundation of the series debut, which achieved acclaim as an Amazon bestseller and #1 "hot post" on Reddit. Volume 2 is quickly earning accolades as well, and was recently named the #1 New Release in Amazon's "Mystery, Thriller, and Suspense Graphic Novels" category.
The author draws inspiration from the enthralling virtual worlds found in multiplayer online videogames, as well as the explosion in monetary value of in-game items. Studying economics at Williams College further inspired the Bluefall universe, leading Trainor to consider how the fraudulent manipulation of a virtual real estate market could lead to disastrous global consequences.
This mysterious, futuristic graphic novel brings readers into a rich, detailed world that reflects many of the issues faced by modern society, and pushes them to imagine how history will repeat itself in emerging virtual spaces.
Bluefall: Vol. 2 (ASIN: B0BT1K3TC7) can be purchased through Amazon. The ebook retails for $2.99. Review copies and interviews are available upon request.
About the book:
VOLUME TWO OF THE BLUEFALL GRAPHIC NOVEL SERIES!
When the creator of the powerful virtual Universe, "Circus" is murdered, LAPD detective JULIAN AMBROSE delves into the virtual world to find the killer and uncover the global financial conspiracy behind his death.
About the author:
Andrew Trainor is a Wilmington, DE born screenwriter, graphic novel author, and actor who studied Economics at the Forbes #1 ranked Williams College, where he competed for the Ephs' nationally ranked soccer team and also featured in the renowned theater department's Shakespeare productions. After achieving the Dean's List at Williams for four consecutive semesters, Andrew left school following his sophomore year to pursue a career in the arts full time, debuting soon after as an actor in the indie film The Black Hole alongside screen legend Malcolm McDowell.
In Los Angeles, Andrew turned his attention and passions to writing, soon producing two short films - Lotusland and Ouroboros - that went on to receive local festival acclaim. While writing speculative works for the screen, Andrew established a name for himself in Hollywood for his innovative worldbuilding and unique blending of classic detective noir with the fantasy and science fiction genres. In 2019, he released his debut graphic novel, Bluefall: Vol. 1, under the banner of his fledgling company, Sunstrike Comics. Bluefall rose to become an Amazon bestseller and sold out three times in its first week at the famous Golden Apple Comics on Melrose, the "comic shop to the stars." Andrew recently finished working with artist Nino Cajayon on Volume 2 of the Bluefall series, a virtual murder mystery story that draws comparisons to Blade Runner and The Big Short, and was inspired by both Andrew's background in economics and his undying love for MMO video games. He is also collaborating with artist Tirso Llaneta for the inaugural volume of the Darkspear series, planned for release in late 2023, and famed illustrator Bill Maus (Nira-X Cyberangel) on Time Code, an original comic book fit for all ages.
Media Contact
Company Name: MindStir Media LLC
Contact Person: Jen McNabney
Email: Send Email
Phone: 800-767-0531
Address:1 New Hampshire Ave Suite 125
City: Portsmouth
State: NH
Country: United States
Website: https://mindstirmedia.com/