Pack Your Own Healthcare Parachute: A Physician's Death Through His Daughter's Eyes begins with a heart-warming story about an immigrant physician who captures the hearts of his patients and the medical community with his unparalleled commitment to patient care. Dr. Dowlatshahi was a healer of the mind, body, and soul and dedicated his life to medicine. But life changed for this beloved man when he was diagnosed with a rare and devastating cancer. As the story unfolds, Shiella Dowlatshahi provides the lessons learned by following her father's harrowing journey from diagnosis to death in what becomes a practical guidebook for other families facing similar circumstances.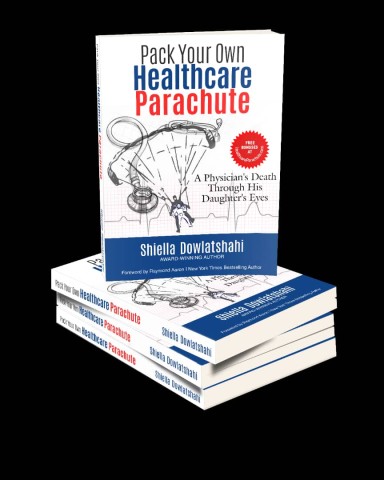 In Pack Your Own Healthcare Parachute: A Physician's Death Through His Daughter's Eyes, Shiella Dowlatshahi writes about how her close-knit family quickly begins to unravel when difficult decisions must be made about their father's care path. Disagreements drive a wedge between the sisters as they are experiencing their own grief and denial about their father's illness. Lack of clear communication about Healthcare Proxy and End-of-Life causes the family more agony as they watch their father quickly deteriorate. Soon, cancer destroys the fabric of this family as they watch their father fight to stay alive. The Dowlatshahi sisters try to advocate for their father based on their own convictions. To add to the complexities of the journey, the family battles a healthcare system in crisis, where bureaucracy is suffocating empowerment, preventing an individual physician quarterback to oversee the care of their own patient in the hospital.
Today's healthcare system makes it even more critical to have a patient advocate during a loved one's healthcare crisis. Pack Your Own Healthcare Parachute: A Physician's Death Through His Daughter's Eyes, Shiella Dowlatshahi utilizes her background in patient advocacy to navigate the healthcare system throughout her father's illness. She provides the reader with steps to follow to avoid some of the pitfalls experienced by her family. She implores the reader to be their loved one's healthcare advocate or engage an independent patient advocate or concierge practice to advocate on their loved one's behalf and build consensus among the family about the difficult decisions. Preparation for an unexpected health crisis is paramount in keeping peace in the family and providing optimal support for a loved one in crisis. In this beautiful tribute and guidebook to navigating the healthcare system, Shiella Dowlatshahi shares scenarios where compassion, kindness, and understanding may have gone a long way to preserving family peace. Shiella Dowlatshahi's book is available on Amazon.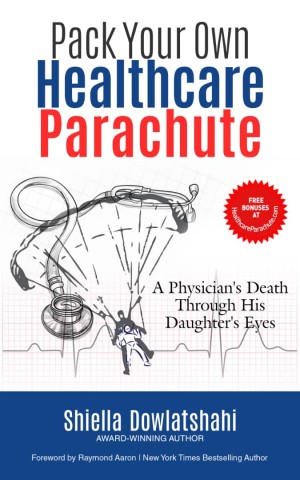 About Shiella: 
As an expert in patient advocacy, Shiella believes every patient is deserving of "timely, reliable, equitable, and safe healthcare" and hopes to "inspire those who are leaders in medicine to become disruptors of the status to change the way medicine is practiced today, focusing on the patient instead of profit."
Shiella Dowlatshahi received her Masters in Pain Research, Education, and Public Policy from Tufts School of Medicine (2020) and has been a patient advocate, serving on the Board of the New England Crohn's and Colitis Foundation for nearly a decade.
https://www.healthcareparachute.com/
Media Contact
Contact Person: Shiella Dowlatshahi
Email: Send Email
Country: United States
Website: https://www.amazon.com/dp/B0BW2S2WX7