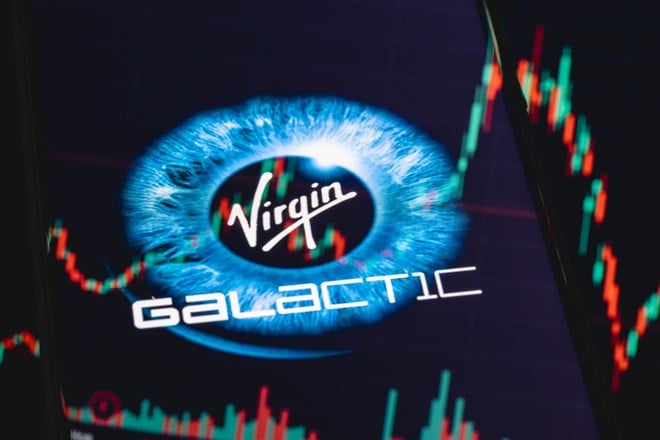 Commercial space flight company Virgin Galactic Holdings, Inc. (NYSE: SPCE) stock has rallied over 30% in the new year in the hopes of commencing commercial space flights again. The Company confirmed on Jan. 12, 2022, that maintenance and upgrades have been completed and are on track to resume commercial flights in Q2 2023.
This announcement comes almost 18 months after the Company decided to tamp down commercial operations after its last flight on July 11, 2021, as its celebrity founder Richard Branson made his initial flight into space. Not to be one-upped, Virgin Galactic's media-hyped flight was followed up on July 20, 2021, by Amazon.com Inc. (NASDAQ: AMZN) cofounder Jeff Bezos on his Blue Origin's first flight with astronauts.
On Jan. 12, 2023, Virgin Galactic announced that it's on track to begin commercial Spaceline flights om Q2 2023. The Company is moving towards final test flights before resuming commercial flights, which were priced at $450,000 per ticket in 2022. The Company also competes with Tesla Inc. (NASDAQ: TSLA) CEO Elon Musk's Space-X in the development of reusable rockets as well as commercial flights.
Upcoming Schedule
The VSS Unity is the rocket-powered sub-orbital spaceship the crew and passengers ride, launched off the mothership carrier VMS Eve. The maintenance on the VMS Eve has been completed at the Mojave, California facility and will begin ground tests in late January.
Flight tests will follow before flying the plane back to New Mexico, where the VSS Unity awaits its arrival at Spaceport America. A series of final tests, including suborbital flights, will be administered before commercial passenger flights resume.
The exact dates have not been confirmed, and weather will always play a factor. Investors should expect shares to follow with each suborbital flight test as they did in the past.
Delays can negatively impact the stock price, as evidenced in the past. A test failure can have serious consequences tanking its shares. However, a 23% short interest can fuel a prolonged short squeeze. Commercial service is expected to start with the Italian Air Force Mission, followed by private astronaut flights. The startup of commercial services will confirm its first 1,000 customers.
Earnings Nothing Burger
On November 3, 2022, Virgin Galactic released its fiscal third-quarter 2022 results for September 2022. The Company reported an earnings per share (EPS) loss of (-$0.55) versus a (-$0.41) loss consensus analyst estimates, a (-$0.14) miss.
The Company had a net loss of (-$146 million) versus (-$48 million) in the year-ago period. Revenues fell (-70.3%) year-over-year (YoY) to $770,000 falling short of the $800,000 analyst estimates.
Since commercial operations were still on hold, the market was expecting little. The Company did forecast free cash flow for its Q4 2022 to be in the range of (-$120 million) to (-$130 million). The Company raised $100 million in gross proceeds from the 15.6 million secondary offering on Aug. 4, 2022, bringing the total float to nearly 275 million shares.
The Company had $1.1 billion in cash as of Sept. 20, 2022. The Company had contracted with The Boeing Company (NYSE: BA) subsidiary Aurora Flight Sciences to construct its next-generation motherships.
CEO Michael Colglazier commented, "We remain on track to launch commercial service in the second quarter of 2023, and we look forward to validating the modifications to VMS Eve and VSS Unity with multiple scheduled test flights in the coming months. We are also executing our key strategic initiatives to scale our business as a global Spaceline over the long term."
He continued, "With Aurora Flight Sciences building our next generation motherships and the selection of experienced manufacturers, Bell Textron and Qarbon Aerospace, to help build our Delta Class Spaceships, we have our primary suppliers in place to expand our fleet and support our long-term growth."
Analyst Reactions
On Jan. 10, 2023, Morgan Stanley resumed coverage on SPCE shares with an equal-weight rating and a $4 price target. Analyst Kristine Liwag expects Virgin Galactic to complete 414 annual space flights in 2030, including around 2,484 commercial passengers, which should generate $1.1 billion in revenues.
Since space flights are a discretionary spend, investors wonder if the falling economy will impact the commercial passengers that reserved their seats for the upcoming flights.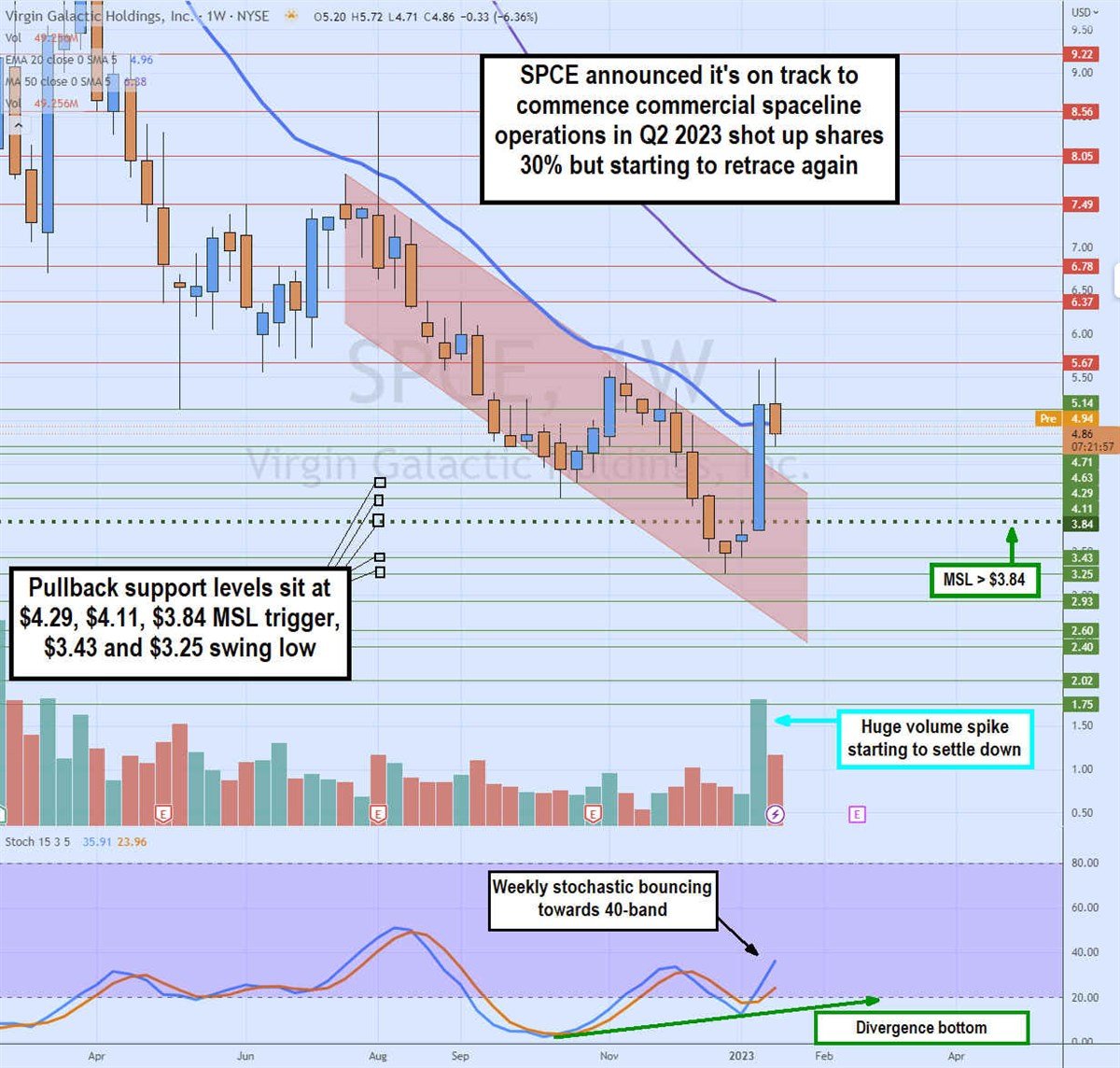 Breakout of the Downtrend Price Channel
SPCE shares have been in a weekly falling price channel since July 2022 as it fell to hit a swing low of $3.25 in late December 2022. A weekly market structure low (MSL) was triggered on the breakout through $3.84 as shares shot up on the announcement of space flight resumption in Q2 2023.
Volume has started to revert down after the massive spike during the week of the announcement. Shares spiked through the weekly 20-period exponential moving average (EMA) at $4.96 but haven't tested the weekly 50-period MA at $6.38. The weekly stochastic formed a divergence bottom as the stochastic finally bounced back up through the 20-band towards the 40-band.
Shares peaked above the $5.67 resistance before a pullback of $4.71. Pullback support levels sit at $4.29, $4.11, $3.84 weekly MSL trigger, $3.43, and $3.25 swing low.