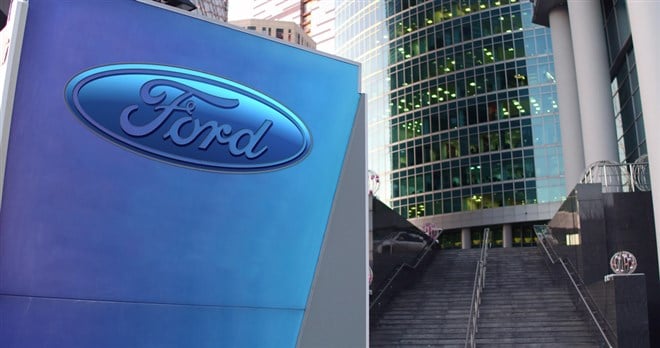 The second largest U.S. automaker Ford Motor Company (NYSE: F) stock, took a (-46%) plunge in 2022 as normalization kicked in from the post-pandemic demand shock. Ford lost steam after a strong Q2 2022 EPS beat with strong revenues as its Q3 2022 results fell flat, accompanied by lowered guidance. Adjusted EBITDA fell (-40%) YoY to $1  billion for the quarter. The demand for new and used cars went through the roof post-pandemic as supply chains and semiconductor shortages delayed the production of new vehicles.
However, inflationary pressures and recession fears have caused consumers to tighten their wallets for discretionary purchases. Rising interest rates have also damaged purchases as financing options have become even more expensive for consumers. The automobile market has had back-to-back turnarounds up and down as normalization kicks back in. Ford is feeling the pinch more as its rival, General Motors Company (NYSE: GM) was still able to deliver a strong quarter while Ford saw a deep reversion.
Used Car Sales Demand and Price Plunge
Used car sales have pulled in, as evidenced by the collapse of online car vendor Carvana Co. (NASDAQ: CVNA). Used car giants CarMax Inc. (NYSE: KMX) and AutoNation Inc. (NYSE: AN) have also seen wholesale prices fall to the lowest levels in over a year. Used car prices fell (-3.3%) in November, driven by rising interest rates. Used electric vehicles (EVs) collapsed sharply as the average price for a used EV fell (-20%) to $54,314 from a high of $75,324.  
Transitioning to Electric
Like most automakers, Ford has also been transitioning to EVs to meet consumer demands and regulatory trends. The major automakers are all gunning to eat into Tesla Inc. (NASDAQ: TSLA) market share. The global decarbonization efforts have caused nations to adopt clean energy sources and go so far as to phase out internal combustion engines in the future.
Europe plans to ban new internal combustion engine cars from 2035 on. Volkswagen AG (OTCMKTS: VWAGY) has plans to have a full all-electric line-up of vehicles by 2030. Ford has seen strong demand for its Mustang Mach-E targeting annual productions of 270,000 to produce 600,000 electric cars annually by 2023 and 2 million by 2026. The Company produced 150,000 electric Mustangs, and they have been selling like hotcakes as they are being turned on dealer lots in just 10 days.
Earnings Slowdown
On October 26, 2022, Ford Motors released its fiscal third-quarter 2022 results for September 2022. The Company reported an earnings-per-share (EPS) profit of $0.30, excluding non-recurring items, meeting consensus analyst estimates of $0.30. Revenues rose 12% year-over-year (YoY) to $37.19 billion, beating consensus analyst estimates of $37.11 billion. Adjusted EBIT fell (-40%) YoY to $1.80 billion, which was still above its earlier guidance of $1.4 to $1.7 billion.
This was primarily due to supply chain shortages that left 40,000 vehicles on wheels built and awaiting parts in addition to $1 billion higher than expected supplier payments. The Company expects to offload the vehicles in Q4 2022. While Ford lost money in China due to its zero-COVID policy effects, it saw strength in Europe as wholesale shipments rose 23% from Q2.
Forward Guidance
The Company guided to the lower end of fiscal full-year adjusted EBIT at $11.5 billion versus $11.5 to $12.5 billion. It adjusted its full-year 2022 free cash flow guidance to $9.5 to $10 billion from $5.5 to $6.5 billion prior guidance. The Company has resumed its stock buyback program to offset any dilutive effect from stock-based compensation.
November 2022 Sales Data
Ford saw U.S. car sales fall (-7.8%) YoY for November. Bronco sales climbed 12.6 percent on sales of 9,330 vehicles, and Expedition sales rose 28.9%. The F-series trucks are on track to be its top-selling model for 2022 and the best-selling truck in the U.S., with 117,415 trucks sold in November.
Electric car sales continued to be brisk at twice the rate of the overall electric segment. Ford has hiked the price of F-150 Lightning EV trucks to start at $56,000, up $15,000, according to Electrek.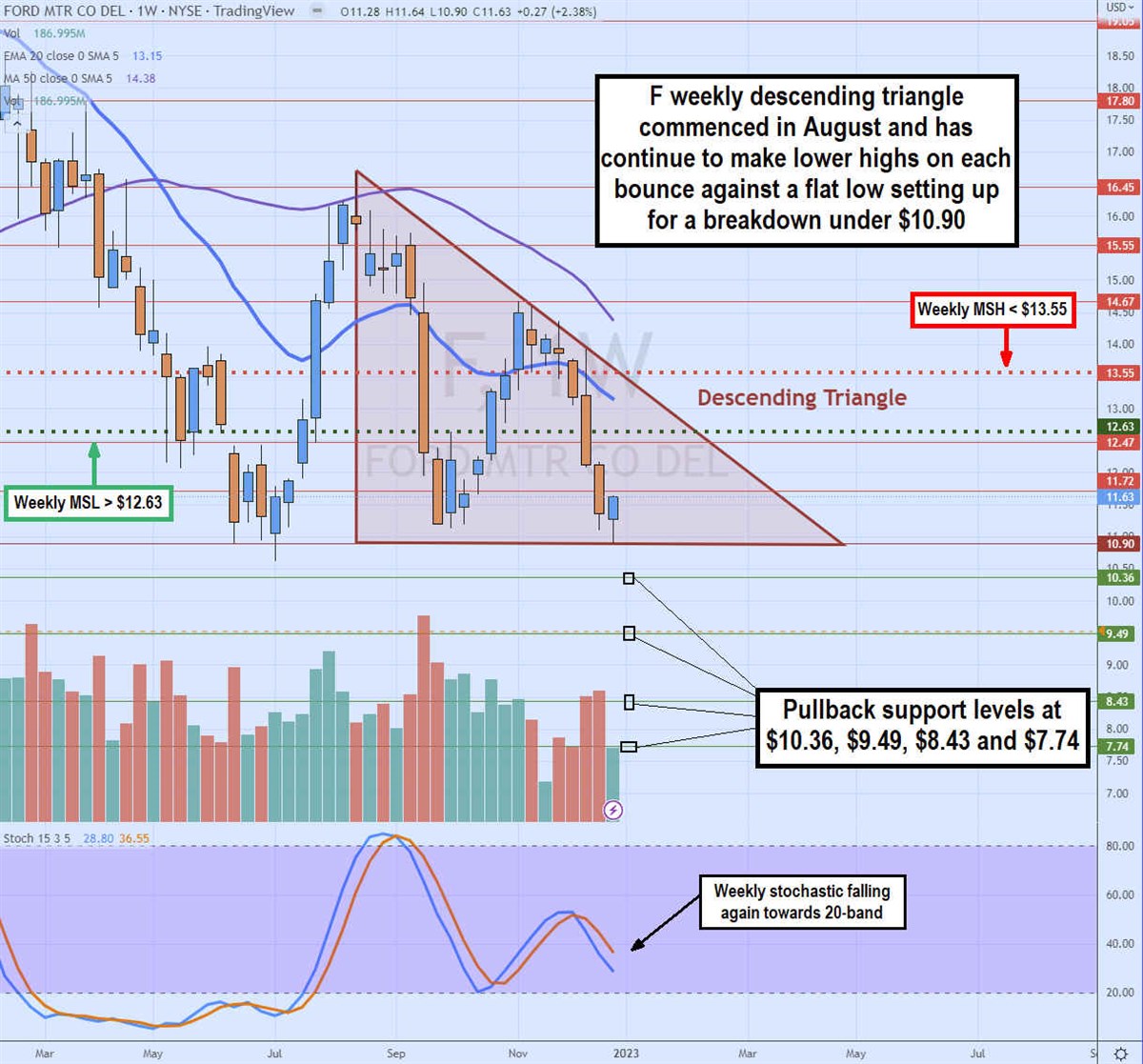 Weekly Descending Triangle
The weekly candlestick chart for F clearly shows a descending triangle with a potential breakdown is $10.90 breaks down. A descending triangle has lower highs on bounces while maintaining a flat lower low. Each bounce off the flat low or lower horizontal trend line is lower until it reaches the apex point, at which the lower horizontal trend line is broken as the stock breakdowns and starts a new leg of a downtrend.
The weekly ascending triangle has been forming since August 2022 after peaking at a high of $16.68 and then continuing to fall lower. The weekly market structure high (MSH) sell trigger formed on the $13.55 breakdown. The weekly market structure low (MSL) buy triggers a breakout through $12.63.
The weekly 20-period exponential moving average continues to fall at $13.15, followed by the weekly 50-period MA falling at $14.38. The weekly stochastic has crossed back down again as it heads towards the 20-band. If the descending triangle triggers, pullback supports can be found at $10.63, $9.49, $8.43, and $7.74.