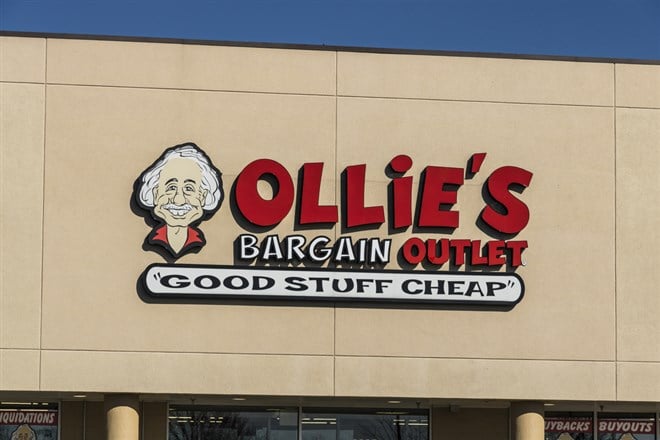 Ollie's Bargain Outlet Holdings (NASDAQ: OLLI) is in the sweet spot. Manufacturers and retailers eager to shed unwanted inventory are helping to drive favorable conditions for Ollie's and its chain of stores. The company has ample choice of inventory and the traffic to keep its inventory down, which results in growth and wider margins. Trading at 34X the pre-release earnings expectation, this stock isn't a value, but it delivers value for investors and should continue for the remainder of the year. 
Regarding value, Ollie's delivers organic growth without debt, a healthy balance sheet, and share repurchases. The company repurchased $11.9 million worth of shares during FQ4 making a total near $42 million or about 1.25% of the post-release market cap. And the company did so while improving its cash balance and maintaining a relatively flat inventory position YOY despite an 8.6% increase in store count. Not too shabby. 
Ollie's Beats On All Counts, Shares Rise 
Ollie's Bargain Outlet had a great quarter bringing in $549.8 million in revenue for a gain of 9.7%. This is a slim 140 basis points above the consensus but a sign of strength nonetheless. The gain was driven by a 3% comp that reversed last year's 10.5% COVID-related contraction. New stores added 5 new stores in the quarter for 8.8% growth in 2022. The margin is another area of strength; the gross margin widened by 110 basis points, and the operating margin improved too. This drove a 17.8% increase in operating income and a 21.7% increase in adjusted earnings, and the forecast is for margin improvement in 2023. 
The guidance is favorable on the top and bottom lines, with revenue and earnings expected to grow more than analysts forecast. The company expected $2.03 to $2.05 billion in revenue compared to $2 billion and for EPS to top the consensus by more than a dime at the low end of the range. The gross margin is expected to widen by 150 to 180 basis points relative to Q4 and may drive results to the top end of the range. 
"For 2023, we are focused on offering great deals, expanding operating margins, and growing our store base, all of which will position us to deliver consistent, long-term growth for our shareholders. We believe we are well-positioned to thrive in the current environment, and our customers are responding to the tremendous values in our stores. Our deal pipeline is strong, and we are excited about the opportunities ahead of us,"  said John Swygert, President and Chief Executive Officer. 
Tightly-Held Ollie's Short 11%, A Squeeze Is On 
The short interest in Ollie's shares was above 11% going into the report and may have been even higher. The company cut its guidance last quarter, and the results across the retail world have been mixed and tepid. Add the high 99% institutional/corporate ownership, and the stage was set for a pop. The question is whether the pop will hold and if the market can sustain a rally. The weekly chart shows a bottom is in play, but the post-release action may cap gains soon. The market surged to hit a 4-month high, but bears have been active since the open and driven shares lower. This is creating a large black candle and a sign of resistance the market may have difficulty crossing, given the market's fear of economic recession.