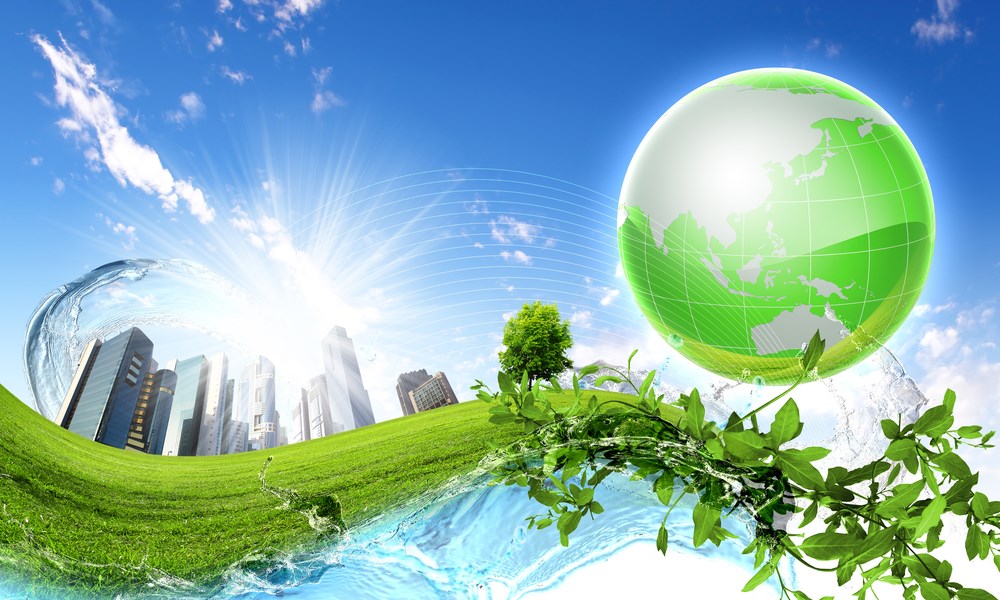 Clean energy is a trend that is continuing to gain steam. The global decarbonization movement has spurred the migration to electric vehicles (EVs) and the adoption of renewable and clean energy sources. While there's no doubt the clean energy movement continues to spread, the stocks have gone through boom and bust cycles. The hype-led rallies get crushed by the reality of looming and growing losses.
Growth is prevalent, but losses continue to soar, which has made for some very cheap bargains in the industry. Cheap is a relative term used to compare prices now to where they were not too long ago. Here are 3 clean energy stocks that are relatively priced dirt cheap compared to just a year ago.
As a major domestic player in the hydrogen fuel cell market, Plug Power hit mainstream notoriety with billion-dollar deals with prominent brands. Amazon.com Inc.  (NASDAQ: AMZN) signed a deal with Plug Power in 2022, agreeing to spend $2.1 billion in a seven-year deal to purchase 10,950 tons of green hydrogen annually starting in 2025.
This is enough energy to power 800 long-haul trucks. In exchange, Amazon was given warrants to purchase up to 16 million shares exercisable at $22.98 per share for the first nine million shares. Plug made a deal with Walmart Inc. (NYSE: WMT) to supply up to 20 tons of hydrogen daily to power up to 25,000 forklifts at distribution centers nationwide. Korea's SK Group made a $1.6 billion investment in Plug Power for a strategic partnership to build a hydrogen technology R&D center and a Giga factory. 
How Fuel Cells Work
Fuel cells are electrochemical hydrogen cells that convert the chemical energy of oxygen and hydrogen into electricity on demand. Fuel cells convert 60% of the chemical energy of hydrogen into electricity, and the only byproduct is water rather than carbon dioxide and greenhouse gases.
The process known as electrolysis uses electricity to split water into hydrogen and oxygen. When the electricity used to perform electrolysis is supplied from the grid, it's called gray hydrogen. When electricity is supplied using renewable and clean energy sources like solar and wind, green hydrogen is naturally more expensive to produce. Plug produces both types of hydrogen.
SEC Settlement for Accounting Irregularities
There were accounting irregularities found by the U.S. Securities and Exchange Commission (SEC)  that also shook investor confidence. Still, it was resolved on Aug. 30, 2023, on a 10-K filing that included restated financials for 2018 and 2019. These included a $112.7 million overstatement of ROU assets and lease liabilities, $19.5 million overstated gross profits in 2019, a $21.2 million overstatement of gross profits in 2018, and a $1.6 million understatement of benefit loss accrual in 2019 and $5.3 million in 2018.
The plug was fined $1.25 million, with a potential $5 million fine if it fails to comply within 90 days. This issue may finally be put to rest, which lifts the cloud of uncertainty with investors and proceeds on its way toward profitability.
Plug Power-ing Path to Profitability
While losses have continued to disappoint investors, the company is expected to break even and hit profitability in 2025. The company grew revenues 72% YoY in its Q2 2023, but losses rose to 40 cents per share, missing estimates by 13 cents. It sees full-year 2023 revenues of $1.2 billion to $1.4 billion versus $1.28 billion consensus estimates.
The company has lost over $1.6 billion in the past year, leaving $1 billion in unrestricted cash. This implies that more financing could be needed. ROTH MKM analyst Craig Irwin lowered the price target to $7.5 from $13 but did note that a $1 billion Department of Energy loan could come by year-end to relieve some of the pressure. PLUG has a 22.17% short interest.
Plug Power analyst ratings and price targets are at MarketBeat.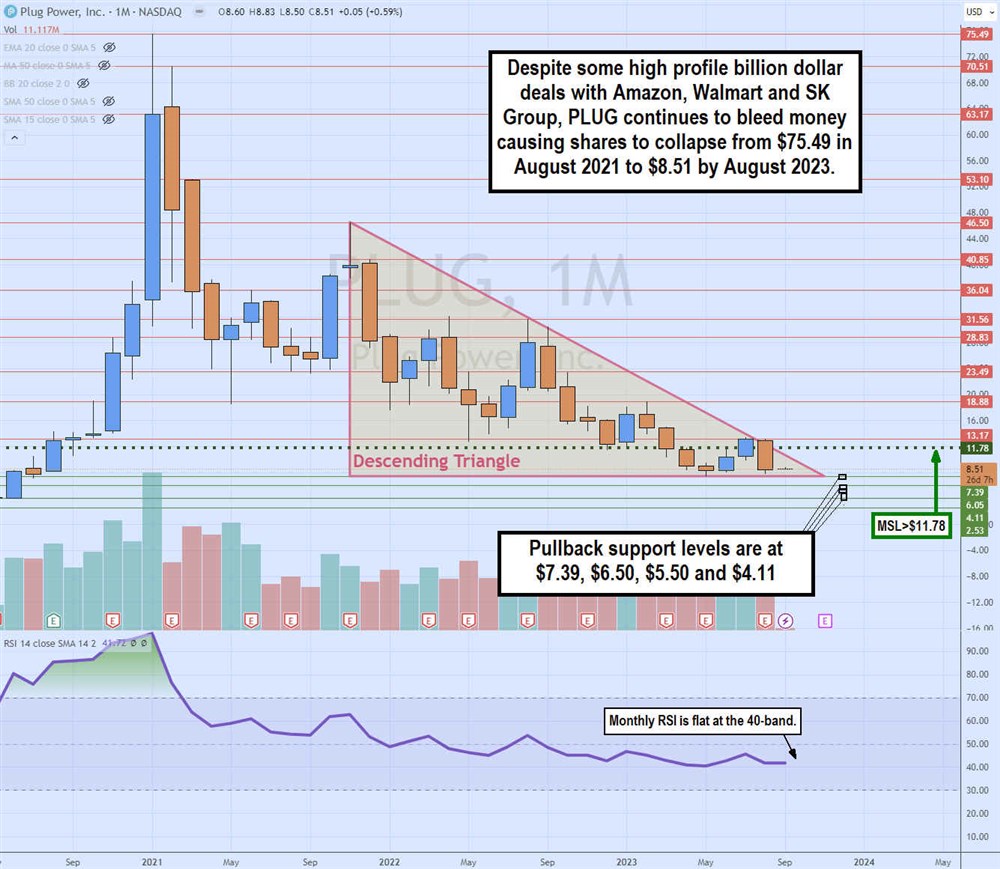 Monthly Descending Triangle Pattern
The weekly candlestick chart for PLUG illustrates the descending triangle pattern formed from the steep sell-off from the peak at $75.49 in August 2021 to the $8.51 level in August 2022. The descending trendline and the flat-bottom trendline at $7.39 are getting closer to meeting at the apex.
The monthly relative strength index (RSI) oscillator remains flat at the 40-band. The monthly market structure low (MSL) breakout trigger is $11.78. Pullback supports are at $7.39, $6.50, $5.50 and $4.11.
As you might have guessed, Fuel Cell Energy also sells fuel cell products, including power modules, systems and backup systems. Its core product is the fuel cell power modules that convert hydrogen and oxygen to electricity. Its distributed generation systems are designed to generate electricity for a single building.
The company saw 134% YoY revenue growth to $38.3 million in Q2 2023 but had a net loss of $33.9 million in the quarter. Most were derived from service revenues from completing new module exchanges for Korea Southern Power Company.
Surprisingly, there were no new module sales in the quarter and a drop in its generation and advanced technologies revenues. Shares have fallen from $29.44 in February 2021 to $1.47 in August 2023.
Running Out of Cash?
Fuel Cell's cash burn rate may not seem as bad as Plug Power's, but they only generate an eighth of the revenues. The company has burned through $136 million in the first six months of 2023. Fuel Cell has $353.5 million in cash and short-term investment, including restricted cash.
The company secured $87 million in financing that extends its cash until the third quarter of 2024. However, there is fear that the company will run out of cash and again need to dilute the shareholders with another secondary offering. The company has also scheduled a shareholder meeting to vote on doubling its authorized shares to 1 billion shares from 500 million in order to raise capital.
The fear of dilution is what's been keeping shares compressed in the $1 to $2 range. Shares have a 16.96% short interest.  
Fuel Cell Energy analyst ratings and price targets are at MarketBeat.
ChargePoint is one of the world's largest electric vehicle (EV) charging station operators. The company designs, makes, operates and maintains a large network of more than 180,000 EV charging stations worldwide. The company announced it would be supporting Tesla Inc. (NASDAQ: TSLA) NACS EV charging standard.
ChargePoint has been dominating the level 2 charging market. Level 2 charging uses alternating current (AC) to power EV batteries. Level 2 chargers provide 2 to 20-kilowatt (kW) charging rates, adding 25 miles of range per hour of charging using the standard 120 and 240-volt outlets.
Revenue Climbing and Cash Burning Machine
Revenues have been climbing 59% YoY to $130 million in fiscal Q1 2024. Net loss was $79.4 million, down from $89.3 million in the year-ago quarter. Gross margins grew to 23% GAAP and 25% non-GAAP. The company expects fiscal Q2 2024 revenues to come between $148 million and $158 million.
ChargePoint had $313.7 million in cash as of April 30, 2023, with 353 million shares outstanding. There are concerns that they, too, will need to raise more capital based on its cash burn rate. Shares have fallen from a high of $49.48 after its reverse merger with a SPAC to $7.44 in August 2023. CHPT has a 24.95% short interest.
ChargePoint analyst ratings and price targets are at MarketBeat.