Ridgeline Roofers Columbia, a roofing company based in Columbia, MD, has elucidated on type of metal roofing that is best for commercial roofing. They want to emphasize that not all kinds of metal roofing materials have the same qualities and features, thus, it is vital to choose the appropriate one for a commercial building. They suggest that the best kind of metal roofing for commercial use is the standing seam metal roofing.
A spokesperson for Ridgeline Roofers Columbia says, "The standing seam metal roofing has numerous advantages that make it the ideal choice for commercial buildings, including: superior durability and longevity, with a lifespan of up to 50 years or more; better resistance to strong winds, fire, and weather conditions; low maintenance requirements, as it's resistant to mold, mildew, and pests; excellent energy efficiency, as it reflects sunlight and reduces cooling costs; and can be installed quickly and easily, reducing labor costs and downtime for the business."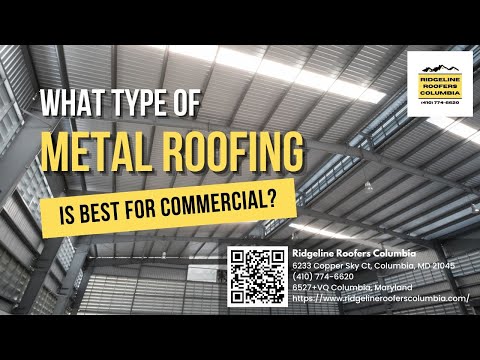 There are a number of differences between the regular metal roof and the standing seam metal roof. It has been observed that while the standard metal roofs are quite durable, they are not as durable and dense as the standing seam metal roofs. This is because the regular corrugated metal roofs have exposed gaskets that make them prone to damage and roof leakage. In contrast, standing seam metal roofs have gaskets that are hidden, although they are a more expensive initial investment. Furthermore, there might be a need to strengthen the roofing joists and support structures because standing seam metal roofs are heavier. However, they can be less costly in the long run because their average lifespan is over 50 to 70 years. They may even last for over 100 years with proper maintenance.
The standing seam metal roofing also offers a sleek, modern look that can make any commercial building more attractive. This kind of metal roofing offers superior durability, energy efficiency, and low maintenance requirements, thus allowing the business to save on operating costs for the long term.
The commercial roofer near Columbia MD also wants to point out that there are three basic differences between the usual metal roof and the standing seam metal roof. While the typical metal roof is made from interlocking rippled metal sheets, the standing seam metal roof is made of interlocking metal panels that run from the ridge of the roof to the eave. It is not only better in shedding water and snow, but it also provides an ideal solution for low-pitched roofs, such as those often found in commercial buildings.
Another key feature of the standing seam metal roof is its fastening system, which is more reliable. While the interlocking rippled metal sheets of a standard metal roof are fastened directly to the roof sheathing, the seams of a standing seam metal roof are raised above the surface, allowing the screws to be fully hidden and safely protected by the roof, while also offering a streamlined look.
A third important feature of the standing seam metal roof is it performance and durability. The exposed fasteners of a regular metal roof often become loose after 10 to 15 years, which means they require regular maintenance. On the other hand, the concealed fasteners are well-protected, and they are less prone to leak.
Ridgeline Roofers Columbia is an all-inclusive service roofing contractor serving the roofing needs of homes and businesses in Columbia, MD and other locations in Howard County. They can professionally install new roofs or roof replacements for homes and commercial buildings in the area. They want to emphasize that what makes them different from other roofers in the area is their well-experienced and skilled roofing experts and unmatched customer service. They can provide free estimates on all new roof installations and re-roofs, including warranties for workmanship and materials. Their service area in Maryland includes Hickory Ridge, Kings Contrivance, Columbia, River Hill, Wilde Lake, Owen Brown, Ellicott City, Elkridge, Long Reach, Savage, Jessup, and Dorsey's Search.
https://www.youtube.com/watch?v=vdsUxxzpaKA
Those who are interested in getting the services of a Howard County commercial metal roofing contractor can check out the Ridgeline Roofers Columbia website or contact them via telephone or email. They are open from 8:00 am to 6:00 pm, from Monday to Friday.
###
For more information about Ridgeline Roofers Columbia, contact the company here:

Ridgeline Roofers Columbia
Ernest Krebs
(410) 774-6620
info@ridgelineroofer.com
6233 Copper Sky Ct, Columbia, MD 21045