Card Designer: The Inspiration For Zuckerberg's "I'm CEO, Bitch"? Steve Jobs.
June 25, 2011 at 17:14 PM EDT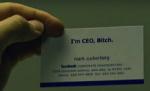 "I'm CEO, Bitch." While the story of this title appearing on Mark Zuckerberg's early Facebook business cards has been around outside the company since at least 2009, when Ben Mezrich's The Accidental Billionaires was released, it really exploded into legendary status last year. That's when the Acadmey Award-winning film, The Social Network (based on Mezrich's book), launched the phrase into pop culture by having Justin Timberlake's Sean Parker utter it as the exclamation point at the end of a key speech meant to inspire Jesse Einsenberg's Zuckerberg. "This time you're gonna hand them a business card that says, 'I'm CEO, bitch!' — that's what I want for you," Parker says. Later in the film, Zuckerberg opens a box of business cards that have the title on them.