Linkprocessor.com Launches Effective and Cost-Friendly Link Indexing Service
Building links can be largely ineffective if search engines do not take note of those links. Linkprocessor.com offers pocket-friendly indexation services with guaranteed results.
Linkprocessor.com introduces a unique link indexing service that effectively combines low cost with scalability for customers. The site has conveniently managed to keep the indexation process simple. All that the customers need to do is submit a link to the site. Every subsequent technical measure is taken by the experts at the site. The indexation procedure followed by the site is purely automated and handled online. The site has deployed powerful servers that relentlessly work for 24 hours to support immaculate indexation.
An important feature that the site allows is integration with other SEO tools. By making use of RPC and API ping services, sites will have the option of integrating SEO tools. Links from there will be sent to Linkprocessor.com automatically. To make the indexation process bring the most desirable results, the site is carrying out the procedure in 3 different link processing circles. All three circles boil down to ensure each link garners the highest possible exposure. As part of the first circle, each link is directly pinged for multiple times. RSS feeds and sitemaps will be supplied with the links following which there will be another pinging.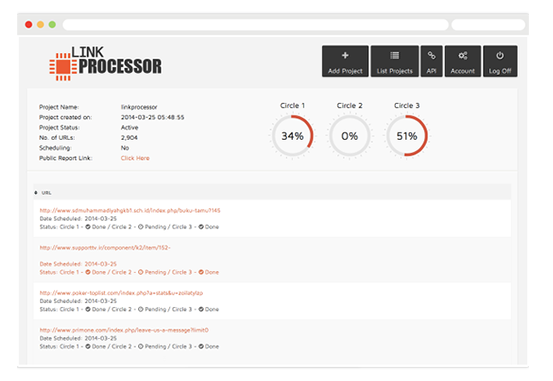 While the first circle is a common link building method practiced by many, Linkprocessor.com scores a major plus with the other two circles. In circle 2, the site processes every backlink through a link crawling module. This, the site claims is a powerful formula that will further chances of search engine indexation for client backlinks.
The third circle is solely dedicated to pushing the backlinks further. In this circle, all links are submitted at authority filter websites. Then, crawlers are invited to every link. The site sends links to anywhere between 30 and 500 pushing services, depending on the package chosen by clients.
The impact-proven indexation procedure followed by the site has been designed, redacted and implemented by expert SEO professionals and experts. Says the manager of the website: "We are an experienced team of SEO professionals. The 10 years of experience that we have in SEO has been boiled down into the 3-circle link indexation at Linkprocessor.com."
About the Company
Linkprocesor.com is a noted link building site organized and run by SEO experts. With the novel link indexation process the site intends to boost online business of its clients.
|Image|
Media Contact
Company Name: Linkprocessor.com
Email: 2008robertgreen@gmail.com
Phone: (323) 982-7667
Country: United States
Website: http://linkprocessor.com/