BoTy Dogs are thrilled with the rave reviews that are coming in on the new "Picking Up In Good Company" dog poop bags. Who do we know that always picks up after the dog - Santa Claus of course!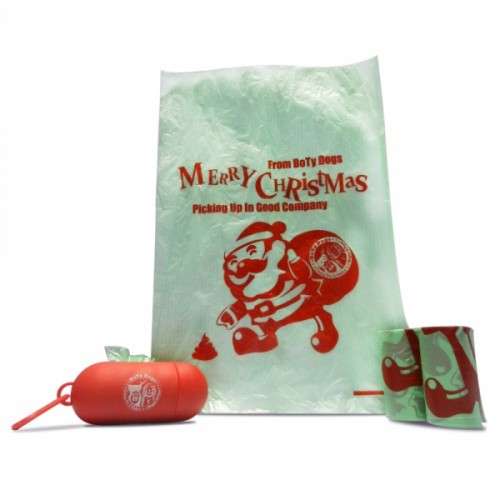 New Westminster, Canada - November 18, 2015 /PressCable/ —
NEW WESTMINSTER, B.C. – November18, 2015 – BoTy Dogs celebrates the successful release of their newest product, Picking Up In Good Company" Dog Poop Bags. The dog poop bags, the newest BoTy addition to their product line, hit the Amazon shelves and has received an extraordinary welcome by consumers. A primary goal of helping clean up neighborhoods and the environment, BoTy Dogs is fast becoming one of the most recognized and reputable creators of top of the line products for dogs and, indeed a provider that sheds happiness and cheer at this special time of year along with their specialized products.
These innovative bags are specifically designed and manufactured with environmentally safe, leak proof features and extreme strength and durability. This newly released BoTy product comes with a red Dog Poop Bag Holder that can be clipped to the dog's leash or any accessory while walking, and four full rolls of festive bags green in color with red wording neatly displayed on the bags. The unique and playful design includes a vivid image of Santa Claus picking up Dog poop with his bag filled with toys strapped on his back. Donned with the delightful words "From BoTy Dogs, Merry Christmas and Picking Up in Good Company" adds that extra touch of joy and cheer satisfying new customers who openly and happily express their overall satisfaction of this newest BoTy dog poop product. Here's what others are saying. Laura Johnson writes " These Doggie Poop Bags are just adorable lol, and they're a perfect little gift for a stocking stuffer." The obvious satisfaction consumers are experiencing along with positive feedback and delightful reviews have proven to be a spectacular start out of the gate for this unique and very practical BoTy product. Consumer Colleen Karr offered a positive review and comments, " These dog poop bags are high quality bags and will not rip right away like others. The plastic storage case is very durable and easy to refill when you run out of bags. This is something every responsible dog owner should have."
With Christmas just around the corner now, people will be sure to add this amazing new product to Christmas gift lists for family and friends alike. The Picking Up in Good Company Dog Poop Bags are definitely a must have Christmas gift for all dog owners and is sure to provide consumers all the confidence and peace of mind they need to know that the bags are every bit as practical and strong as the healthy walking buddies themselves, and are sure to provide all the sanitary protection needed, as well as quick and simple ease of use.
Happy dog owners who delight in daily walks with the precious bundle of joy, will be happy to head on over to Amazon.com and pick up the newly released BoTy Picking Up In Good Company Dog Poop Bags. What better gift to give and receive to and from all dog walking buddies than the gift of environmentally safe, practical, affordable, and uniquely playful dog poop bags that will surely help clean up every neighborhood with joy.
For more information about us, please visit http:/www.BoTydogs.com
Contact Info:
Name: Carla McNeil
Organization: BoTy Dogs
Address: 701 Harrison Avenue Box1566
Phone: 6045254032
Release ID: 96840