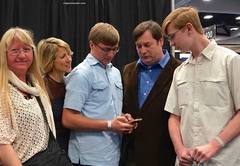 (PRLeap.com) July 5, 2016 - The founders of ExploreTraveler and Crowdify.club have agreed to work together to help boost the crowdify platform, and applications.
Co-Founder
John Gentry
said "we are very excited to be on board helping to get great visibility for Crowdify.club" and "support their endeavors within the crypto currency markets,
Crowdify
is a social platform for crowd funding, crowd sourcing, and the amplification of social media reach.
Michael Todd
, Yoriko Todd, and Senn Nathan the founders of Crowdify have built a very exciting platform, and source of social media information that everyone can benefit from."
ExploreTraveler Vice President of Visual Arts and Social Media
Karen Gentry
stated "online tools that help us increase or multiply our reach can significantly reduce the amount of time needed to setup our daily marketing. With the Web Tools Wiki now integrated into the platform we save a tremendous amount of time from searching for new ideas, and with social media crowd reach. Even small companies can now compete in online marketing, and engage or hire people from all over the world."
GET IN TOUCH
John Gentry
ExploreTraveler Inc
8585279153
https://exploretraveler.com
You can see the original version and more on PRLeap here: http://www.prleap.com/pr/245932/exploretraveler-founders-become-brand