HolidayHotel.Reviews and Poinsettia Villas, St. Lucia announce an agreement to build animated review videos for each of the resort's self-catering accommodations. The videos are syndicated to broadcast media and promoted on the combined social networks of Poinsettia, HHR and partner sites.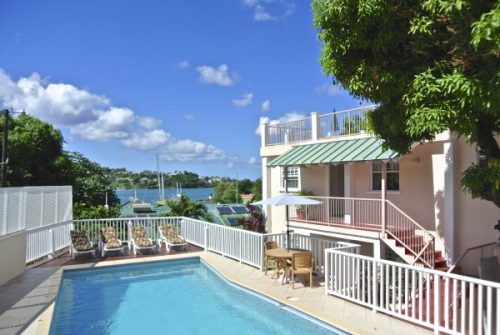 Bridgetown, Barbados - August 3, 2016 /PressCable/ —
In an unprecedented agreement with Poinsettia Villas, the premier ocean view villa-apartment resort in St. Lucia, HolidayHotel.Reviews (HHR) is embarking on a most comprehensive video production and brand reputation marketing campaign for a singe resort. The agreement will see HHR produce animated review videos for each of the Poinsettia villas, taking real reviews from guests who have enjoyed a recent holiday at the resort.
"The team looks at all reviews for all villas, selecting a mix that focuses on different aspects of the self-catering accommodation as well as the total holiday experience," says Ian R. Clayton, CEO of AXSES AllCast Marketing, owners of HHR. "Although all Poinsettia guests are independent travelers, who like the privacy and freedom of self-catering accommodation in a resort setting, they vary in what they like most about the villas and the St. Lucia vacation experience." Guests offer tips on places to visit, the villas and the services. Significantly, the video does not edit guests' comments. The objective of the review video is to accurately and visually describe the experience so that travelers will know exactly what to expect. "The aim
is to always exceed expectations," says Margaux Daher, Owner Manager of Poinsettia Villas St. Lucia. She adds: "HHR does a great job of capturing the essence of the Poinsettia guest experience.
The HolidayHotelReviews team gather reviews that give a good balance and highlight different aspects of the experience. " All reviews are authentic, made by recent guests who have a useful point of view that is helpful to other travelers," says Clayton. The videos use a professional spokesperson to introduce the testimonial and a different voice to read the guest's statements. Features noted by the guest are animated with live video, high resolution still images and graphics. HHR uses images provided by the hotel and can provide on-site video, drone and photography to tell the story.
COO of HolidayHotelReviews.biz, Kathy-Lynn Ward, explains that "the reviews are a significant advantage for several reasons. Animated videos show and tell what real guests say, giving travelers a technicolor review that illustrates what to except." Ward outlines several other advantages of the animated video. "It keeps travelers engaged and on the hotel website. Pictures are worth a thousand words and videos pack pictures, people and emotion into a powerful message that communicates instinctively," she explains.
Most review sites do not offer animated video. With the HHR review video service, travelers do not need to search the internet for opinions and first-hand information. The very best is on the site. Often when guests leave a hotel website to visit a review site, such as TripAdvisor, they never return. Many end up in a booking funnel and book a competing property.
Example Video https://www.youtube.com/watch?v=mj_1P0NfxQY
According to Google's Travelers Road To Decision study, the three things that travel shoppers want to know are: Location | Price | Reviews and Rating. Reviews are right up at the top of the list. In addition, 65% of travelers look at videos when they start thinking about taking a trip and they look again when choosing a destination and also before booking. HHR combines the power of reviews with videos in a way that is highly personalized, focused, descriptive and authoritative. It is also very affordable. "The entire production and distribution process semi-automated, making it most affordable to small hotels and independent tourism operators," as Clayton says. The Company is also in discussions with various tourism players and destination services.
For more information, please visit http://holidayhotelreviews.biz
Contact Info:
Name: Ian R. Clayton
Organization: HolidayHotelReviews.Biz
Address: 15A Pavillion Court Hasting, CH. CH. Barbados
Phone: 2464272004
Release ID: 126218