Common mistakes can lead to the death of expensive Koi fish but with help from NextDayKoi.com owners can learn what to avoid to keep fish alive and healthy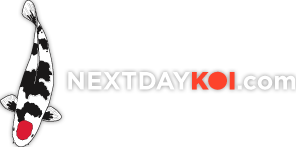 Kernersville, NC - April 26, 2017 /MarketersMedia/ —
NextDayKoi has become a leading source of koi fish, delivered live to pond owners across the country. Unfortunately, more than a few koi fish meet their demise shortly after delivery due to common mistakes made by hundreds of pond owners. In an effort to help reduce the incident of new koi fish deaths, nextdaykoi.com has launched a comprehensive guide outlining the 17 most common mistakes and how to avoid them to keep koi fish alive and healthy.
"Koi fish are surprisingly resilient and can survive well even in harsh environments," stated company representative Casey LeFever. "However, in many situations, pond owners think they are helping the fish when they are actually making it extremely difficult for them to survive. Things such as air rocks, not quarantining the fish properly and not netting the pond can lead to the demise of these fish. Learning what to do and more importantly, what to avoid, can help our customers keep their koi fish alive and healthy with ease."
NextDayKoi.com has taken significant steps to ensure customers are confident when purchasing fish. Not only does the company offer an "arrive alive" guarantee, they have extended this to last for 14 days after the fish are purchased. If the purchased fish dies at any point within this guarantee period, the company will refund the cost or replace the fish. Now, paired with the comprehensive guide to keep koi fish alive, consumers have the tools and resources they need to protect the investment they have made.
LeFever continued, "In addition to selling koi fish and providing our customers with resources to help keep them alive and healthy, we also provide a large selection of goldfish, fish food, and other products. Our ultimate goal is to become a go-to resource for fish, products, and information for pond owners. We have worked hard to establish our company as a trusted resource and continue to work diligently to maintain this status."
Shopping for koi fish is simple and worry-free when using https://nextdaykoi.com. The selection and options are diverse, the guarantee provides peace of mind and the resources ensure pond owners know what to do and how to do it when it comes to caring for koi fish.
ABOUT NEXTDAYKOI
Founded in 2006, NextDayKoi has been shipping goldfish, butterfly koi and live koi to pond owners and hobbyists all across the United States. This company purchases their stock directly from the source and works with some of the largest koi farms in the entire world to provide customers with the highest quality fish at affordable prices. They also leverage their high volume of shipping to provide extremely competitive Next Day Air shipping rates with UPS.
Contact Info:
Name: Casey LeFever
Organization: NextDayKoi.com
Phone: 336-231-0086
Source URL: http://marketersmedia.com/nextdaykoi-launches-campaign-to-help-koi-owners-understand-best-care-practices/190591
For more information, please visit https://nextdaykoi.com/
Source: MarketersMedia
Release ID: 190591