A labor of love deserves a name and Villa Ingenieux appropriately fits the home designed with European flare recently listed with Key Realty Group. The property is located in Lane County, Oregon.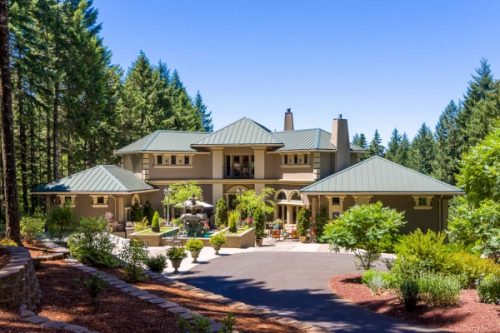 Eugene, United States - July 5, 2017 /PressCable/ —
Unparalleled refinements encompass Villa Ingenieux, dubbed 'the house of ideas.' An (approximately) 10,000-square foot old-world villa, the home is nestled in the foothills of the coastal range just 15 minutes from the Eugene Airport. The four-story home features seven bedrooms, nine bathrooms, a central Grand Hall with 24-foot ceilings and is designed for nurturing creativity. The Villa includes a full kitchen and separate catering kitchen, outdoor and indoor stages with a 16-foot retractable movie screen, a professional grade sound system, and stadium-seating home theater.
The owners, Nate and Tami Csakany created a home that is a perfect combination of old-world architecture and modern conveniences. The couple selected Simon Smith and his team at Key Realty Group Inc. to find a buyer who values the unique and deliberative details that define Villa Ingenieux.
According to the owners, the Villa has a very special history and they had a very specific vision in mind when they built it. In choosing a realtor, they looked for someone who understood and appreciated that history, passionately believed in their vision, and who would make a quality commitment to sharing that in the listing process. Simon Smith and his staff represent nearly 90 years of experience in representing buyers and sellers.
"This is a one-of-a-kind listing," Smith said. "I am honored with their trust to handle their most prized possession, their passion, and their dream. This home belongs in Southern California with its elegance, style and finish. It offers ultimate privacy without the two-hour commutes and crowded chaos."
The villa is a distinctive property. Two ponds, fountains and a large courtyard add to the lushness of the property. In addition to the 30-plus room mansion, a 3,000-square foot, three-story guesthouse and 600-square foot greenhouse are also on the estate.
Key Realty Group is a locally homegrown Eugene real estate company that offers separate marketing teams for buyers and sellers to ensure that it's brokers focus their time on marketing the home and securing a sale of the property, while buyer specialists work exclusively with buyers.
The owners said they have found exactly what they were looking for in Simon and his team at Key Realty Group. "The perfect person is out there to succeed as the new owner of the Villa, and Simon and his team have the creative marketing ideas needed to find them," Nate Csakany said. "Great ideas always find their home. After all, Villa Ingenieux is the house of ideas."
Key Realty Group Inc. is a firm that handpicks its team members to deliver quality and friendly service to residents and future residents of Eugene and the greater metropolitan area.
For more information about Key Realty Group, call at (541) 954-8600 or visit: http://keyrealtygroupinc.com.
Contact Info:
Name: Simon Smith
Email: info@keyrealtygroupinc.com
Organization: Key Realty Group Inc.
Address: 627 Country Club Rd., Eugene, Oregon 97401, United States
Phone: +1-541-636-4580
For more information, please visit http://keyrealtygroupinc.com
Source: PressCable
Release ID: 214199