Is the Strong Start for the Stock Market in 2019 for Real?
January 20, 2019 at 11:00 AM EST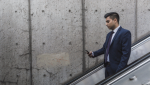 By Christopher Versace via Iris.xyz Last Friday's favorable December Employment Report showed the domestic economy is not falling off a cliff and comments by Fed Chair Jay Powell reflected that the central bank will be patient with monetary policy as it watches how the economy performs. Those two...