What Do Rising Interest Rates Mean To You?
January 23, 2019 at 09:45 AM EST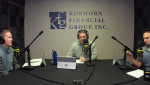 "One of the current themes in the economy and stock market is rising interest rates. What does that mean to you? From how it changes the stock market and impacts your investments, to how it influences other areas of your financial life, we're talking about it on this episode of Wise Money....