Wag the Dog: Time to Declare Victory in the "Trade War"?
January 26, 2019 at 11:30 AM EST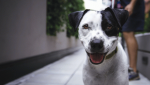 By Eric Kuby via Iris.xyz The market continued its recent rebound, as the narrative has shifted to include a more dovish Fed policy as well as a positive resolution of the trade war with China. The momentum-based trading models (are there any other trading models these days?) all flashed "buy, buy,...