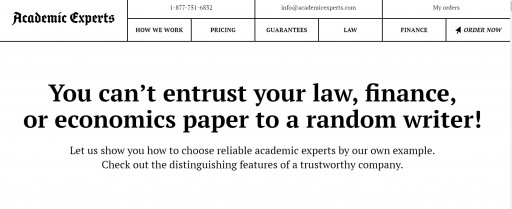 LONDON - October 18, 2019 - (
Newswire.com
)
AcademicExperts.com is a company that provides writing assistance in such disciplines as law, finance and economics. The decision to focus only on a few disciplines was a deliberate one: to provide its customers with the highest quality of services and to deliver impeccable results. The service is aimed at helping undergraduates craft well-written law and finance papers, and is used by students from the most prominent colleges in the United States of America, Canada, Britain and Australia.
Academic Experts is a niche company that has been offering academic writing help for almost twenty years. The main goal of the service is to relieve students' pain when it comes to academic writing and to teach them how to craft impressive papers. What differs AcademicExperts.com from other services is that its team consists of highly qualified lawyers and economists who have acquired many years of work experience. One of the newest features the company has introduced is the option to get a sample paper only in four hours. Writing experts at the company know how problematic dealing with law and finance papers can be. What is more, they are aware of the constantly changing policies and protocols. With their assistance on hand, a student will finally be able to stay up-to-date with everything that is going on in the area of finance, economics and law.
Customer satisfaction is the most important aspect for Academic Experts. The average customer satisfaction rating is currently at 8.37 out of 10 (based on a total of 4212 customer surveys). At AcademicExperts.com, a client can always ask for their money back if they are not completely satisfied with the way in which an order has been completed. What is more, a customer can also ask for a free revision as long as they do not change the initial instructions of the order.
Selecting a niche company to get academic writing assistance is a smart decision as all teams are focused on helping a student solve their problem. With AcademicExperts.com, a customer is able to get law, economics and finance writing help whenever they need. The only thing they are required to do is to place an order on the website.
About AcademicExperts.com: AcademicExperts.com is a leading service that offers academic writing assistance in such disciplines as law, economics and finance. All sample papers are custom written and plagiarism-free. For more information, visit https://academicexperts.com or contact the team by email info@academicexperts.com or by phone 1-877-751-6832 or 44-808-196-0773 (UK).
Press Release Service by
Newswire.com
Original Source:
AcademicExperts.com: A Progressive Company to Get Law and Finance Writing Help From