More workers call the shots as the labor market tightens. So who's the boss?
February 07, 2020 at 09:11 AM EST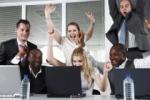 With unemployment at just 3.6%, businesses across the U.S. say finding top talent is a major challenge. But in 2020, employers need to prepare for an even greater hurdle: employees dictating the terms of when and how they want to work.