A pastor's uncommon journey to building bridges & pursuing peace by bold loving others
Fort Worth, Sep 23, 2020 (Issuewire.com) - With the nation in a hostile season from a pandemic to racial injustice to this year being an election year - how can one get through this season without destroying relationships? How can the nation come to an understanding that no matter your view to work together toward a common goal of resilient communities?

Hatred and disunity have become the marks of our nation. Although some say it has been that way since inception, some might say it is worse now than ever before. Pastor Bob Roberts Jr believes that the solution is for people to start acting with bold love.
"It's not always easy to love the people who look like us and think like us, but we attempt to do it far more often than we do with those who are different than us. I'm obviously not perfect at loving those who are different than me," Roberts says, "but I have learned why it is so important to love all my neighbors and how to build bridges to begin doing so."
Roberts, a native Texan, is the founder of GlocalNet, a ministry dedicated to mobilizing the church for transformation in the public square and co-founder of Multi-Faith Neighbors Network, a multifaith organization committed to creating international religious freedom through intentional cross-cultural relationships. He is also the founding and sr. global pastor of Northwood Church in Keller, Texas.
"One concern is how can people be friends with someone who has completely different values, faith, and culture? Our society can function, but some are acting as if we have lost the ability to compromise. Everyone lives in a world today where there are all ideologies present, there is more diversity in American than ever before," says Roberts.

Reports say that the approach most people have to stand up for their beliefs has been the biggest hurdle to a respective, peaceful relationship with people with opposing views.
"Trying to convince others that your truth is better than their truth is not loving them. Love is built on relationships and trust, both of which take time to develop. You will build way more trust if you serve your neighbors consistently and graciously. Sweating together while serving others is an excellent start to building loving relationships with people different from you," Roberts says. "When you do this, people know that you care about them as human beings. Once this happens, you can begin to share your hearts - faith, hopes, fears, joys, and struggles. Then when you understand each other, people will be open to talking about their differences in a non-threatening and relaxed way. In a context of respect and love, you won't demand compliance with your beliefs; you will share with each other as trusted friends. You will truly be loving your neighbor."

Over the past 20 years Bob has been a trailblazer in the peacemaking and international religious freedom arenas, frequently being called upon by the U.S. Department of State, United Nations, U.S. Islamic World Forum, World Economic Forum, ambassadors, diplomats, policy leaders and others for his groundbreaking work in this field. He seeks to build and execute a model whereby multi-faith and church planting combine to create flourishing cities.
Roberts has spent the last twenty-five years of his life learning to love his neighbor. Learning to love those who are different from him. On his new podcast called Bold Love, you can hear some of those never-before-told stories with conversations with some of his bridge-building friends from Christians to Imams to government officials. They talk about what it looks like to live out our faith in public and share stories of our journeys. It is a chance for people to learn and highlight the uncommon paths of bridge builders and peacemakers that are living out their lives in the public square and working together to build resilient communities around the globe.

"Overall, I started the Bold Love podcast because I want others to learn from my mistakes so that it won't take them as long as it took me to learn how to love those different from you. I want to facilitate conversations on important topics that will encourage the listener to live out their faith boldly, how to better love their neighbor and learn how to relate to others despite your differences without compromising their faith."

Roberts' concept of bold love is where theological or political conviction doesn't put you in opposition. Where you can build friendships without compromising your beliefs. Where you can work together for a common goal of resilient communities while having deep theological differences.

"We have become so polarized and cancel each other out so quickly that we've lost our ability to respectfully disagree," Roberts says. "As a Christian, Jesus tells us to be salt and light and to get outside our tribe. It is what the apostle Paul did as he was invited into secular events to preach - he went into the public square and had a bigger view of the gospel outside of inviting people to church - he went out to them." 
In the opening episode of season one of the Bold Love podcast, pastor Roberts brings on his friend Imam Mohamed Magid to discuss why evangelical Christians should be engaged in the public square and love your neighbors no matter their beliefs. They candidly share how they took on heavy criticism from their own tribe, how their childhood played into their path and tell never-before-told stories of the journey of how loving boldly guided them to working together in countries around the world for religious freedom for all - without compromising their faith.

Overall, Roberts believes that it is a crucial time in our nation's history and there is urgency in the way we treat one another.
"The beauty of America is the freedoms we all share. It is a competition for ideas. Personally, as a follower of Christ, I want to be as educated and informed as possible on everything. Theology, foreign affairs, current events, psychology - everything. My call is not to win arguments or debates; my call is to love. But, regardless of faith, we all need to respond well to this election season by boldly loving everyone because our nation is at stake."


---


About Bob Roberts Jr
Dr. Bob Roberts Jr is the founder of GlocalNet, founding and senior global pastor of NorthWood Church, and co-founder of Multifaith Neighbors Network. He is the host of the Bold Love Podcast highlighting the uncommon journeys of bridge builders and peacemakers that are living out their faith in the public square, pursuing peace by loving their neighbor and a reference everyone can use in order to engage with people unlike themselves. The Bold Love Podcast is available now on Apple, Google, Spotify, and most podcast platforms and on www.bobrobertsjr.com
Twitter & Instagram: @bobrobertsjr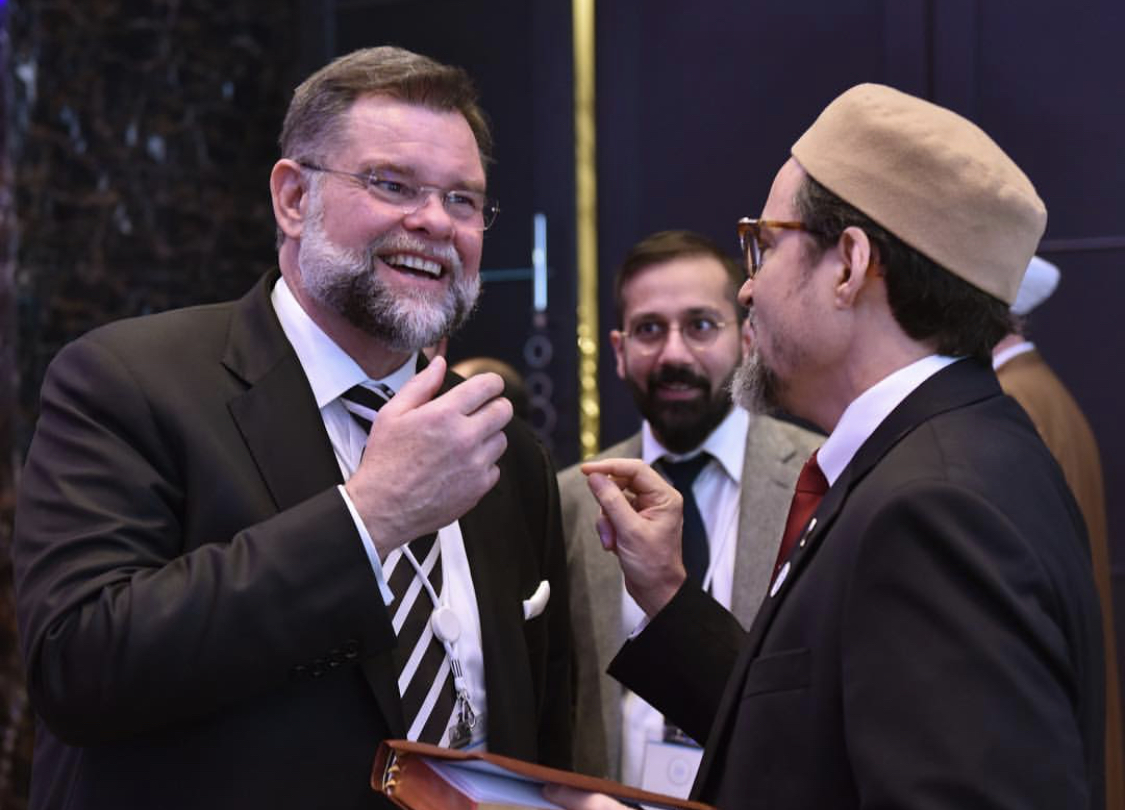 Media Contact
Josh Tate
Source :GlocalNet
This article was originally published by IssueWire. Read the original article here.