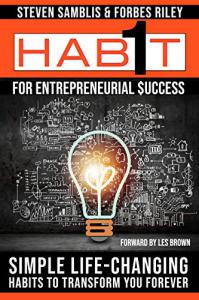 1Habit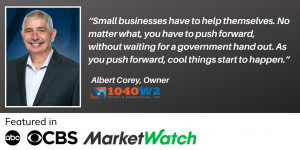 Albert Corey Entrepreneur Success Academy
"1 Habit For Entrepreneurial Success" has just passed 100,000 words and over 660 pages, making it the biggest book published on Entrepreneurial Success.
MIAMI, FLORIDA, UNITED STATES, September 23, 2020 /
EINPresswire.com
/ -- Small Business Expert, Albert Corey, and Entrepreneurial Genius, Forbes Riley, have teamed up to launch the largest book ever published on entrepreneurial success. Since 2016 the largest book published that delved into the subject of Entrepreneurship was "Tools of Titans" by Tim Ferriss which has 650 pages and 82,432 words.
"1 Habit For Entrepreneurial Success" is still being developed, but has just passed 100,000 words and over 660 pages. That will make it the biggest book published on Entrepreneurial Success, including a foreword by the world's greatest motivator, Les Brown.
When the idea of "1 Habit For Entrepreneurial Success" was being developed by Steven Samblis, the creators wanted it to be the most thorough study on the entrepreneurial mind available, the ultimate resource on the subject, and the bible of Entrepreneurial Success.
Corey, author of the best selling book, The Art of Perception, has been steadily booked on webinars such as Comeback Champion, Connect Summit, Global Elevation Summit, and recently started his own podcast, 'Entrepreneur Success Academy', in addition. Corey gives away free copies of The Art of Perception when you text the word TAXMAN to 26-786.
Forbes Riley, the catalyst for bringing the most contributing authors together in one book, is a regular presence on televisions worldwide as a product spokesperson and television host--appearing on such networks as ESPN, TLC, Fit-TV, Animal Planet, ABC Family, Home Shopping Network, QVC, The Shopping Channel (Canada), QVC London and has been profiled by Forbes Magazine in the E! Network special "Outrageous Fortunes." As an actress Riley has appeared in numerous feature films, television shows and even live on Broadway. Riley also is a health and fitness regular correspondent on Hallmark's Home and Family, NBC's The Doctors and a wide variety of news shows and daytime talk shows.
1 Habit™ for Entrepreneurial Success brought together some of the greatest Entrepreneurial Minds on the Planet, including Corey's media coach, Angel Tuccy, and asked them each two simple questions. What is the 1 Habit that has had the most significant impact on your life? What was the 1 un-Habit you needed to get rid of to clear your pathway to success? This book is the result, and the magic is all you need is 1 Habit to change your life forever.
About Albert Corey: Corey has worked with small businesses all his life. Corey himself has been a small business owner since 1985, helping him to develop a deeper connection and understanding of the clientele he serves. Corey is the owner of
Corey and Associates Inc
. and says that the company has been preparing personal, business and corporate returns since 1985 by asking better questions to get the best results in one's accounting and tax returns. To learn more about Corey and Associates Inc., visit them online at
http://1040w2.com
. They also offer free consultations which can be reserved by calling 305-823-9228.
Angel Tuccy
Vedette Global
+1 7202715942
email us here